Spiced Haddock en Papillote
with Pearl Couscous & Vegetables
Spiced Haddock en Papillote
with Pearl Couscous & Vegetables
Cooking food "en papillote" is a healthful, easy and simple way to lock in flavour, vitamins and nutrients. By cooking the carrots, zucchini, peppers, couscous and fish together in packets of parchment paper, we allow the flavours to marinate and combine in delicious ways. Finish your dish with a squeeze of lemon and fresh herbs and you'll soon see — eating well never has never been so good (or so easy)!
4 Haddock fillets

200g Carrots

24g Vegetable demi-glace

1 Bell pepper

1 Lemon

1 Shallot (or onion)

1 Zucchini

1 Bunch of parsley

250g Multicoloured pearl couscous

9g Vegetable en papillote spice blend (salt, garlic, curry powder, onion, red bell pepper, green bell pepper, celery seeds, sunflower oil, basil, parsley, chives)
Strainer
Peeler
Olive oil
Parchment paper
Salt & pepper
Sheet pan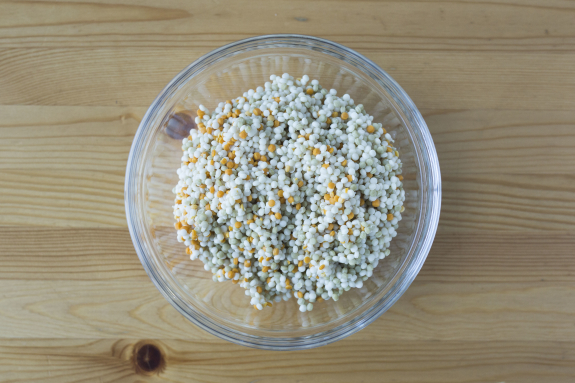 Soak the couscous
Place the couscous in a large bowl and cover with cold water. Let soak for 10 minutes, while you prepare the next steps. Drain the couscous.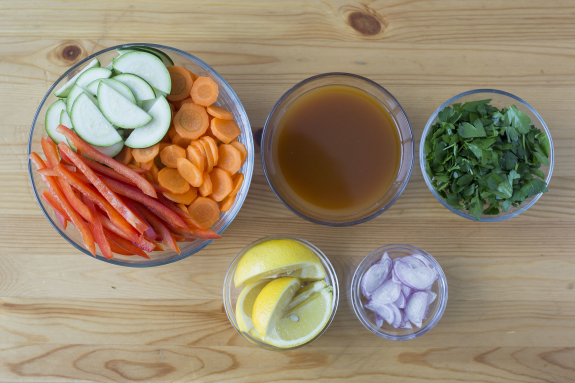 Mise en place
Preheat the oven to 450°F. Halve the zucchini lengthwise; thinly slice crosswise. Core and julienne the bell pepper. Peel and thinly slice the carrots into rounds; combine with the bell pepper and zucchini. Peel and thinly slice the shallot into rounds. Cut the lemon into wedges. Pick the parsley leaves off the stems; roughly chop the leaves. In a small bowl, whisk together the demi-glace with ¾ cup of water.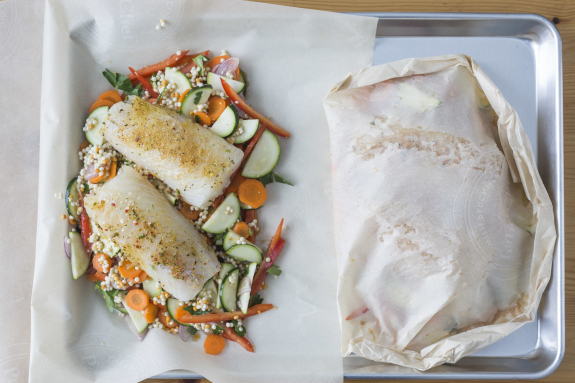 Prepare the papillotes
In a large bowl, combine the couscous, vegetables, shallots and ½ the parsley; drizzle with olive oil and season with S&P. Cut 2 pieces of parchment paper, each about 18 inches long. Pat the fish dry with paper towel; season with the spice blend and S&P. On one side of each piece of parchment paper, place ½ the couscous mixture, ½ the demi-glace mixture and the juice of 1 lemon wedge. Add 2 fish fillets to each packet. Fold each piece of parchment paper in half over the fish. Beginning at one corner, make small overlapping pleats all the way around to tightly seal the edges of the paper around the filling.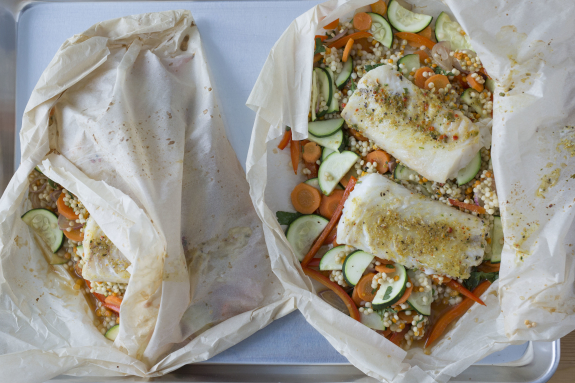 Bake the papillotes
Place the papillotes on a sheet pan. Bake the fish in the oven, 17 to 20 minutes, or until the fish is cooked through and the couscous is tender. Let sit for 5 minutes before carefully unwrapping the parchment (be careful as the hot steam will escape as you open the packets).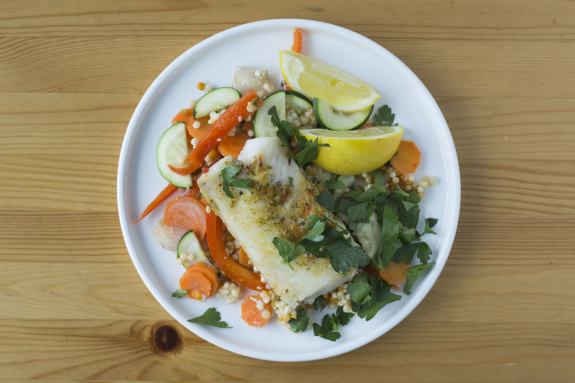 Plate your dish
Divide the finished couscous, vegetables and fish between your plates. Spoon some of the liquid left in the papillote pouches over the fish and vegetables. Top with the remaining parsley and serve with the remaining lemon wedges. Bon appétit!
*Health Canada recommends cooking fish to a minimum internal temperature of 70°C.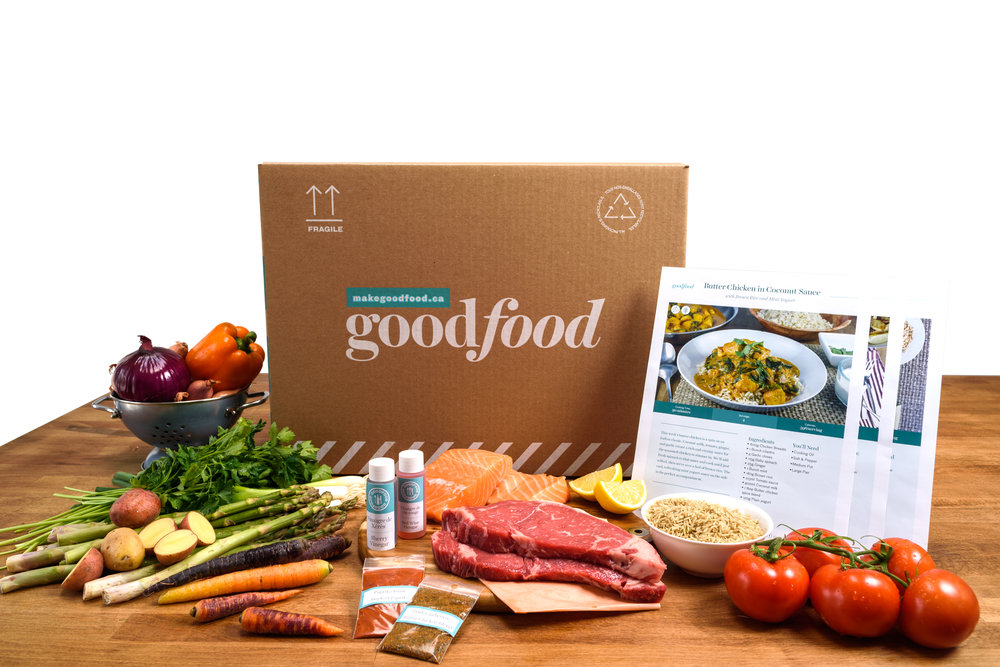 Let's get cooking
Discover a new way to cook with Goodfood: original recipes and the freshest ingredients delivered to your door every week.
Get started for just $4.99