Keto Walnut & Spinach Stuffed Pork Chops
with Ghee Sautéed Mushroom Sauce
Keto Walnut & Spinach Stuffed Pork Chops
with Ghee Sautéed Mushroom Sauce
Converts of the ketogenic diet, rejoice! This protein-rich, carb-light meal will nourish you and please your taste buds! We stuff pork chops with baby spinach, walnuts and fresh garlic, season them with a blend of spices, salt, vinegar and paprika and pan sear them in ghee (clarified butter). Then, we top these oversized stuffed chops with a thick cremini mushroom sauce and serve up some roasted broccoli on the side. With this savoury and rich dish, eating "keto" has never been so easy - or delicious!
370g Butterflied pork chops

30g Baby spinach

2 Garlic cloves

1 Onion (or shallot)

225g Cremini mushrooms

1 Broccoli

12g Vegetable demi-glace

15ml Balsamic vinegar

30g Walnuts

30ml Ghee

10g Stuffed pork chop spice blend (salt, paprika, garlic, powdered vinegar, onion, red bell pepper, black pepper, sunflower oil, oregano, parsley, chives, Cayenne pepper)
Large pan
Sheet pan
Olive oil
Salt & pepper
Parchment paper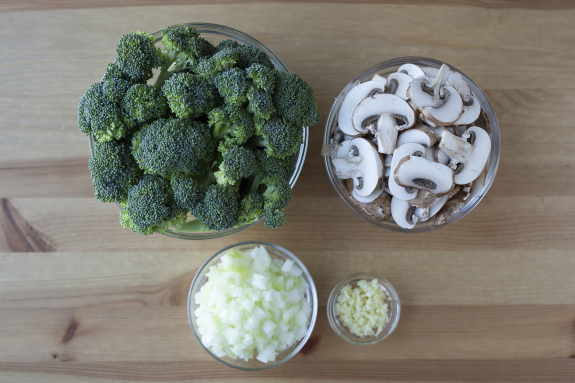 Mise en place
Preheat the oven to 450°F. Cut the broccoli into long, thin florets, including the stem. Thinly slice the mushrooms. Mince the garlic. Peel, halve and small dice the onion.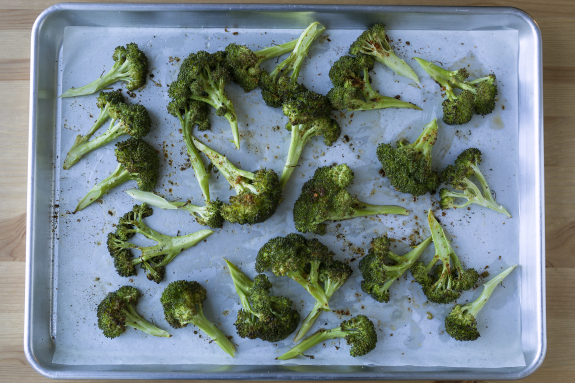 Roast the broccoli
On a lined sheet pan, toss the broccoli with a drizzle of olive oil and season with ½ the spice blend and S&P. Arrange in a single, even layer and roast in the oven, 18 to 20 minutes or until browned and tender when pierced with a fork. Set aside in a warm spot.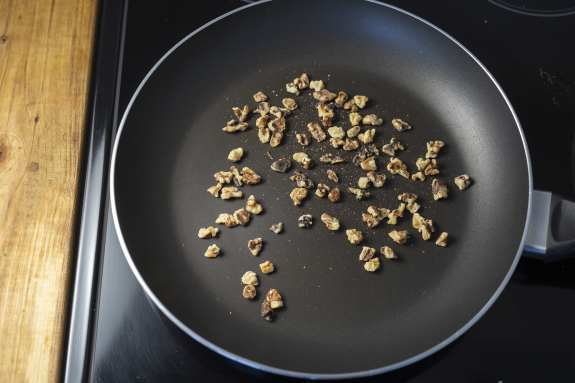 Toast the walnuts
While the broccoli cooks, heat a large, dry pan on medium. Add the walnuts and toast, stirring occasionally, 2 to 3 minutes, until lightly browned. Transfer immediately to a plate and reserve the pan.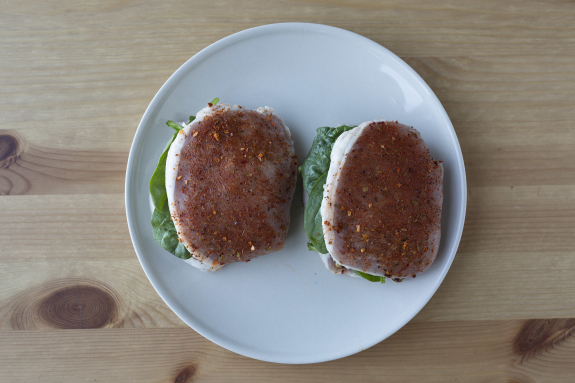 Prepare the pork chops
Pat the pork dry with paper towel. Open up the pork chops and stuff with the walnuts, a few spinach leaves and ½ the garlic; season with S&P. Close each pork chop and press gently to flatten. Season the stuffed pork chops with the remaining spice blend and S&P.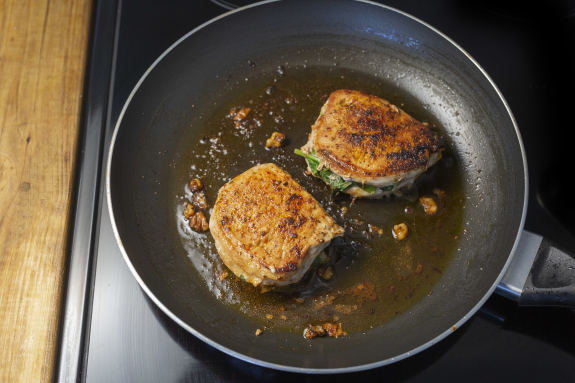 Cook the pork chops
In the reserved pan, heat the ghee on medium. Cook the pork, partially covered, 5 to 8 minutes per side, until browned and cooked through. Transfer to a plate leaving any browned bits (or fond) in the pan.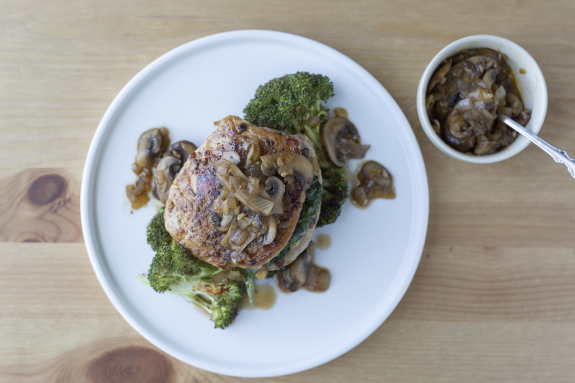 Make the sauce & serve
In the pan of fond, heat a drizzle of olive oil on medium. Add the onions, mushrooms and remaining garlic; season with S&P. Cook, stirring occasionally, 3 to 4 minutes, until the mushrooms have softened. Add the vinegar, demi-glace and ½ cup of water (double for 4 portions). Cook, stirring occasionally, 3 to 4 minutes, until the liquid has reduced slightly in volume. Divide the roasted broccoli and finished pork chops between your plates. Spoon the mushroom sauce over the pork. Bon appétit!
*Health Canada recommends cooking pork to a minimum internal temperature of 71°C.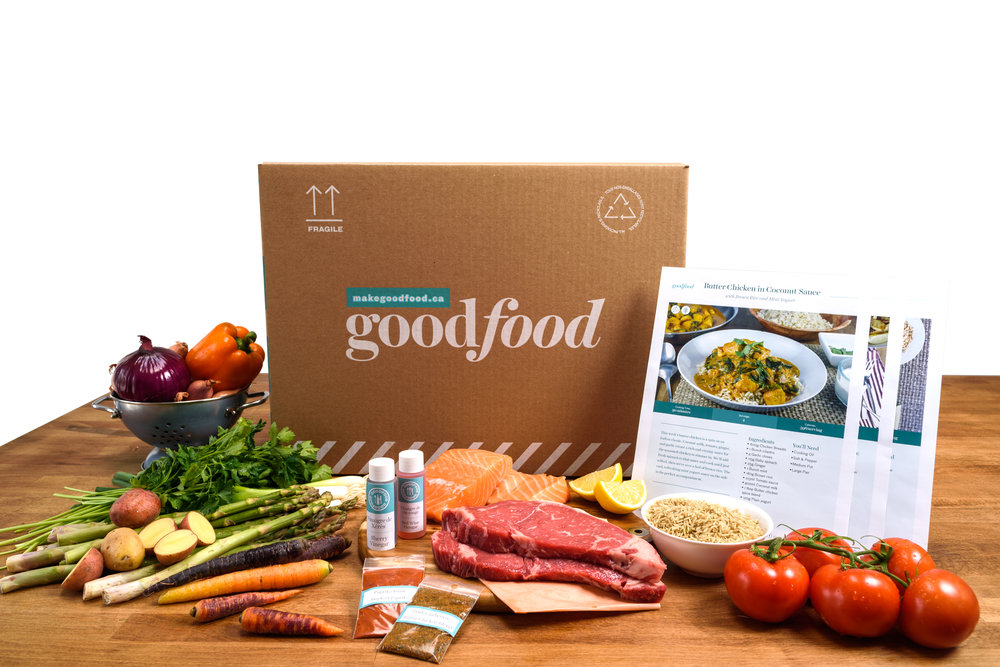 Let's get cooking
Discover a new way to cook with Goodfood: original recipes and the freshest ingredients delivered to your door every week.
Get started for just $4.99