Grilled Ratatouille Sandwich
with Sundried Tomato Hummus
Grilled Ratatouille Sandwich
with Sundried Tomato Hummus
As the final days of summer are upon us, we wanted to put our BBQ to good use a few more times. These mouth-watering grilled vegetable sandwiches are sure to impress vegetarians and carnivores alike. Mini bell peppers and slices of zucchini get marinated before heading to the grill. Once golden, they're tossed together with multi-coloured cherry tomatoes and layered in a toasted ciabatta bun with a generous layer of sun dried tomato hummus. With a side of delicate mesclun salad this is an end of summer meal to remember.
2 Garlic cloves

1 Zucchini

170g Multi-coloured baby peppers

60g Mixed greens

140g Multi-coloured cherry tomatoes

1 Bunch of oregano

45ml Balsamic vinegar

60g Hummus

30g Sundried tomatoes

2 Ciabatta breads

9g Ratatouille sandwich spice blend (salt, black pepper, garlic powder, onion, fennel, italian herbs, paprika, sunflower oil, parsley, chili)
Large pan
Olive oil
Salt & pepper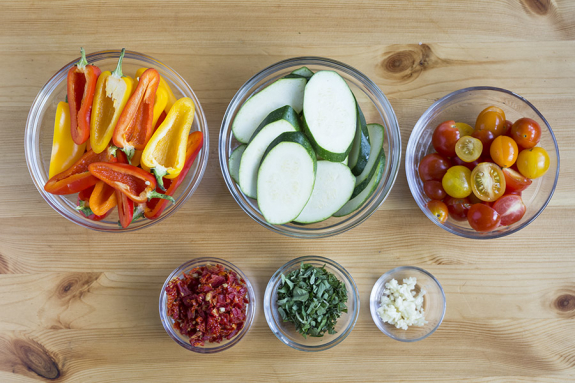 Mise en place
Mince the garlic. Cut off and discard the ends off the zucchini; slice into ½-inch-thick slices on a diagonal. Halve the peppers lengthwise and remove the core. Halve the cherry tomatoes. Mince the sundried tomatoes. Pick the oregano leaves off the stems; roughly chop the leaves.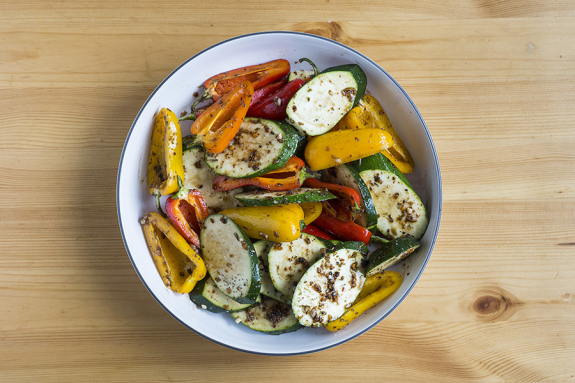 Prepare the vegetables
In a bowl, combine the zucchini, peppers, spice blend, ½ the garlic, ⅔ of the vinegar and a drizzle of olive oil; season with S&P.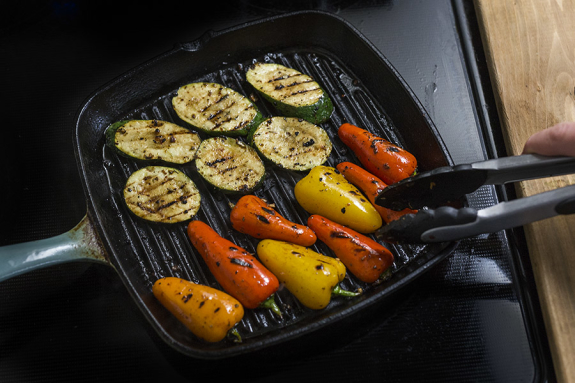 Grill the vegetables
Heat your BBQ on high, making sure to oil it first (or in a large pan, heat a drizzle of olive oil on medium-high). Add the vegetables to the BBQ (or pan) in a single, even layer (if using a pan, work in batches to not overcrowd the pan and add oil as necessary between batches.) Cook, 1 to 3 minutes per side, until browned and tender. Transfer to a bowl and add the cherry tomatoes; toss to combine. Wipe out the pan and reserve (if using, if not, keep your BBQ heated on medium heat).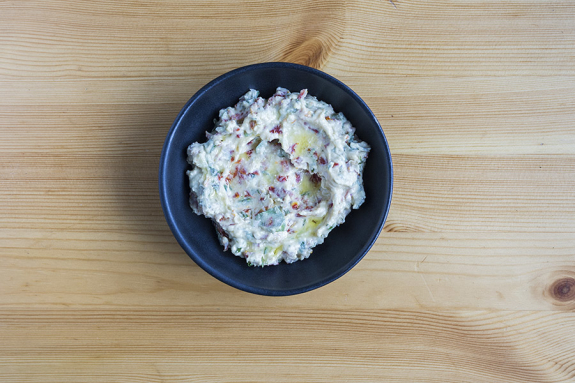 Make the hummus
In a bowl, combine the hummus, sundried tomatoes, ½ the oregano, as much of the remaining garlic as you'd like and a drizzle of olive oil; season with S&P to taste.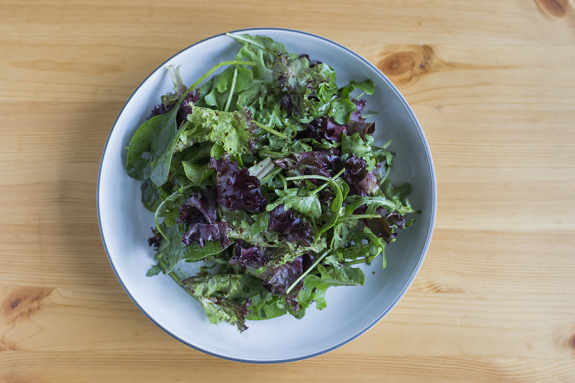 Make the salad
In a large bowl, combine the lettuce, remaining oregano and the remaining vinegar. Drizzle with olive oil and season with S&P to taste. Toss thoroughly to combine.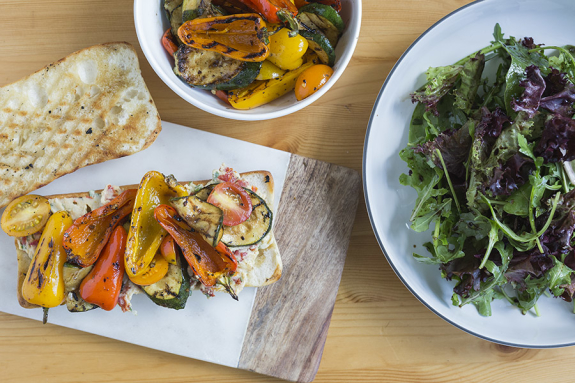 Finish & serve
Halve the bread lengthwise. Drizzle the cut-sides of the bread with olive oil and place cut-sides down on the BBQ (or in the reserved pan, on medium-high). Toast, 1 to 2 minutes, until golden brown. Top the toasted bun bottoms with the hummus mixture, the grilled vegetables and bun tops. Divide the sandwiches between your plates. Serve the salad on the side. Bon appétit!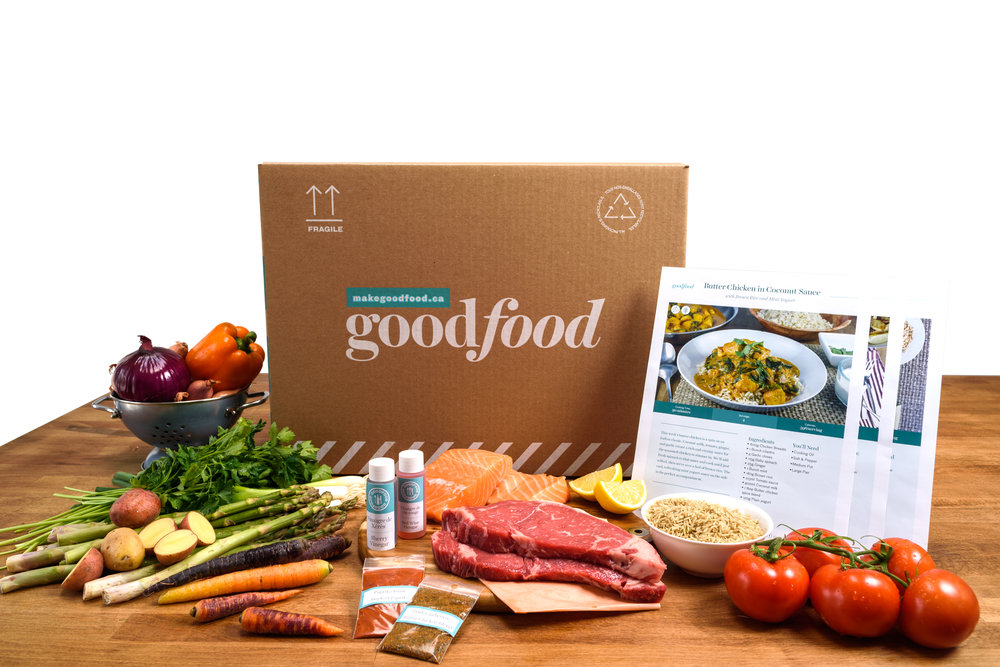 Let's get cooking
Discover a new way to cook with Goodfood: original recipes and the freshest ingredients delivered to your door every week.
Get started for just $4.99