Gemelli Pasta Salad with Sundried Tomato Pesto
Pickled Shallots, Arugula & Feta
Gemelli Pasta Salad with Sundried Tomato Pesto
Pickled Shallots, Arugula & Feta
This is the kind of pasta salad recipe that you'll want to bring to your next backyard BBQ to wow your fellow guest and then sit back as you get showered with compliments. It's that good! We're tossing twisty gemelli pasta with a bright sundried tomato pesto, quickly pickled shallots, sautéed bell peppers, briny olives, peppery arugula and crumbled feta. It's fresh, savoury, full of textures and colours, and exactly what you want to be eating outside on a hot day!
170g Multicolour baby peppers
60ml Sundried tomato pesto
Medium pot
Large pan
Strainer
Olive oil
Salt & pepper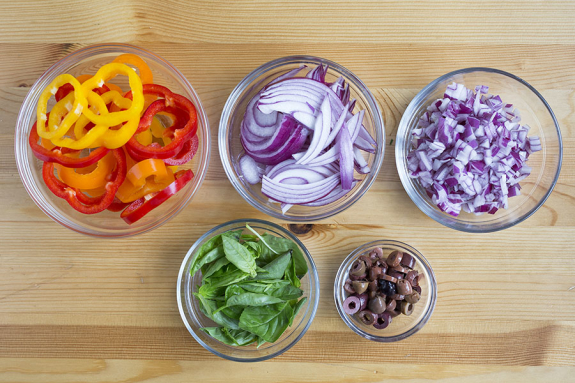 Mise en place
Bring a medium pot of salted water to a boil. Peel the shallots; small dice one, thinly slice the other. Cut off and discard the tops of the peppers; scoop out the ribs and seeds. Thinly slice the peppers into ¼-inch-thick rings. Roughly chop the olives. Pick the basil leaves off the stems.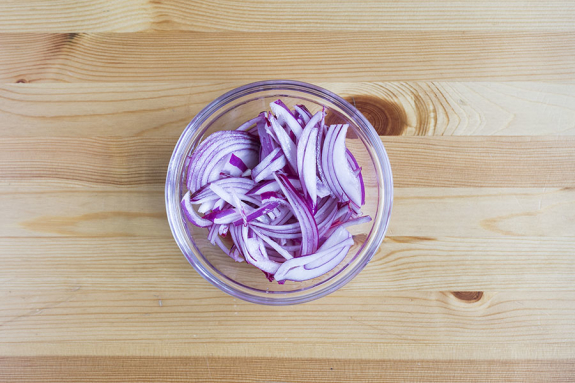 Marinate the shallots
In a bowl, combine the sliced shallots with the vinegar and a large pinch of salt. Set aside to marinate for at least 10 minutes while you prep the next steps.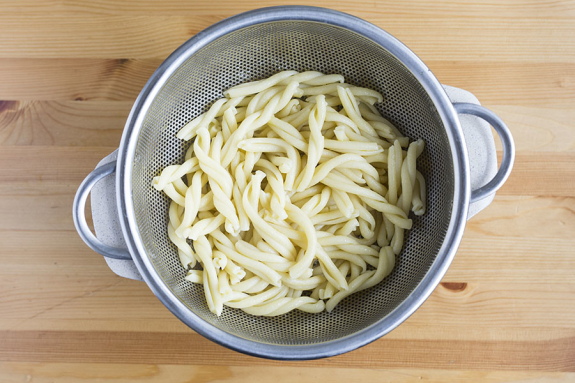 Cook the pasta
Add the pasta to the pot of boiling water. Cook, 2 to 3 minutes, or until al dente (still slightly firm to the bite). Drain the pasta thoroughly. Toss with a drizzle of olive oil to prevent sticking and set aside to cool.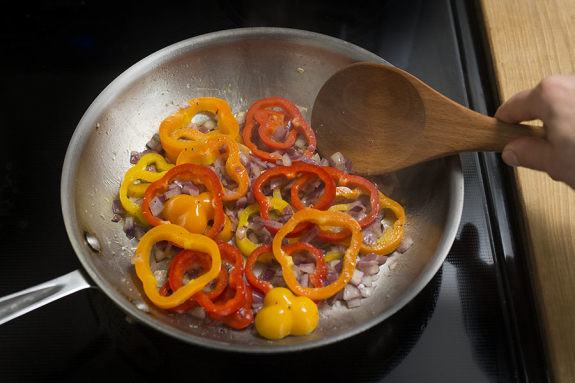 Cook the peppers
While the pasta cooks, in a large pan, heat a drizzle of olive oil on medium. Add the diced shallots and cook, stirring frequently, 1 to 2 minutes, until fragrant. Add the peppers and cook, stirring occasionally, 3 to 4 minutes, until slightly softened; season with S&P. Transfer to a large bowl.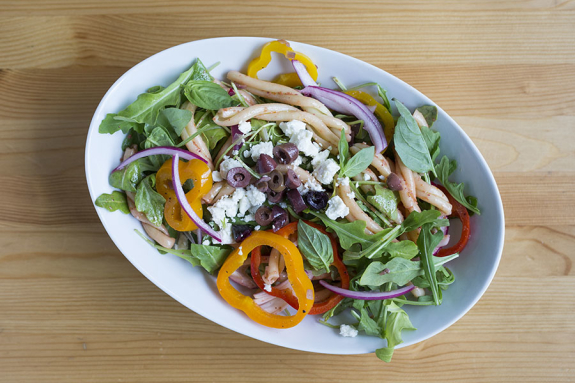 Assemble the salad & serve
To the bowl of cooked peppers, add the pasta, pesto, olives, arugula, feta (crumble before adding) and pickled shallots; add some of the shallot marinating liquid. Toss to combine and season with S&P to taste. Divide the finished pasta salad between your plates. Garnish with the basil (chop right before adding). Bon appétit!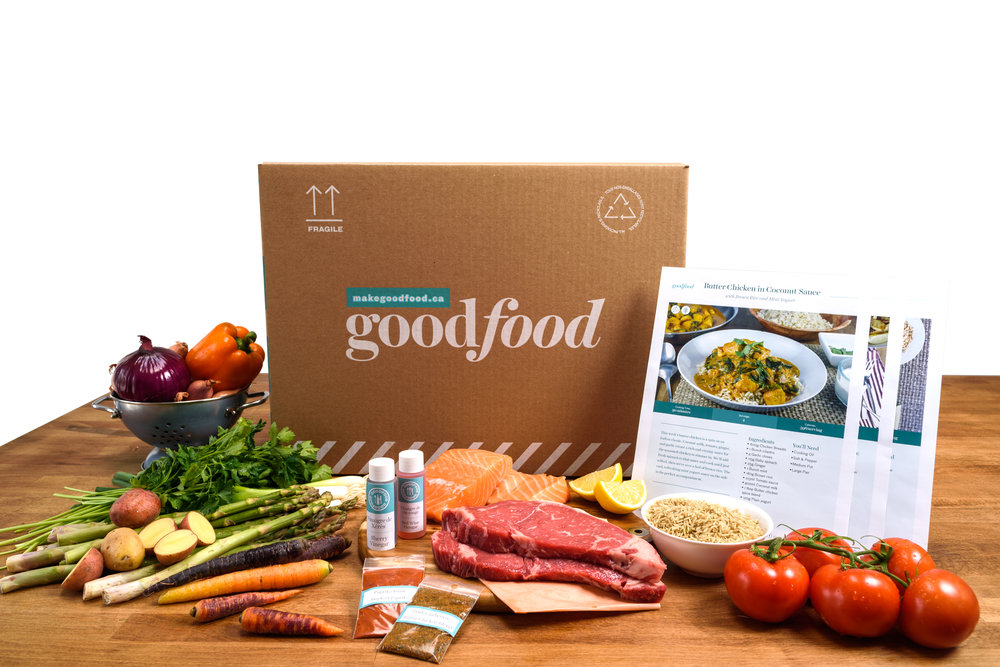 Let's get cooking
Discover a new way to cook with Goodfood: original recipes and the freshest ingredients delivered to your door every week.
Get started for just $8.75