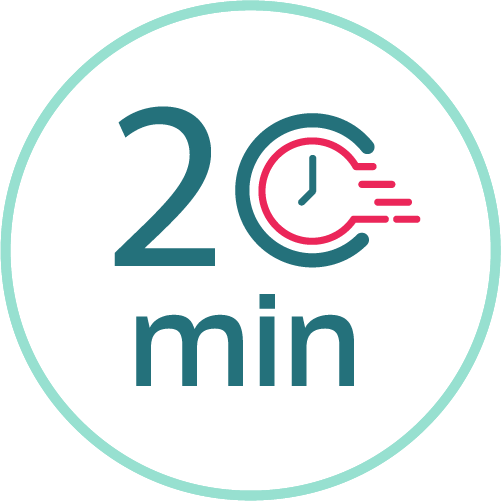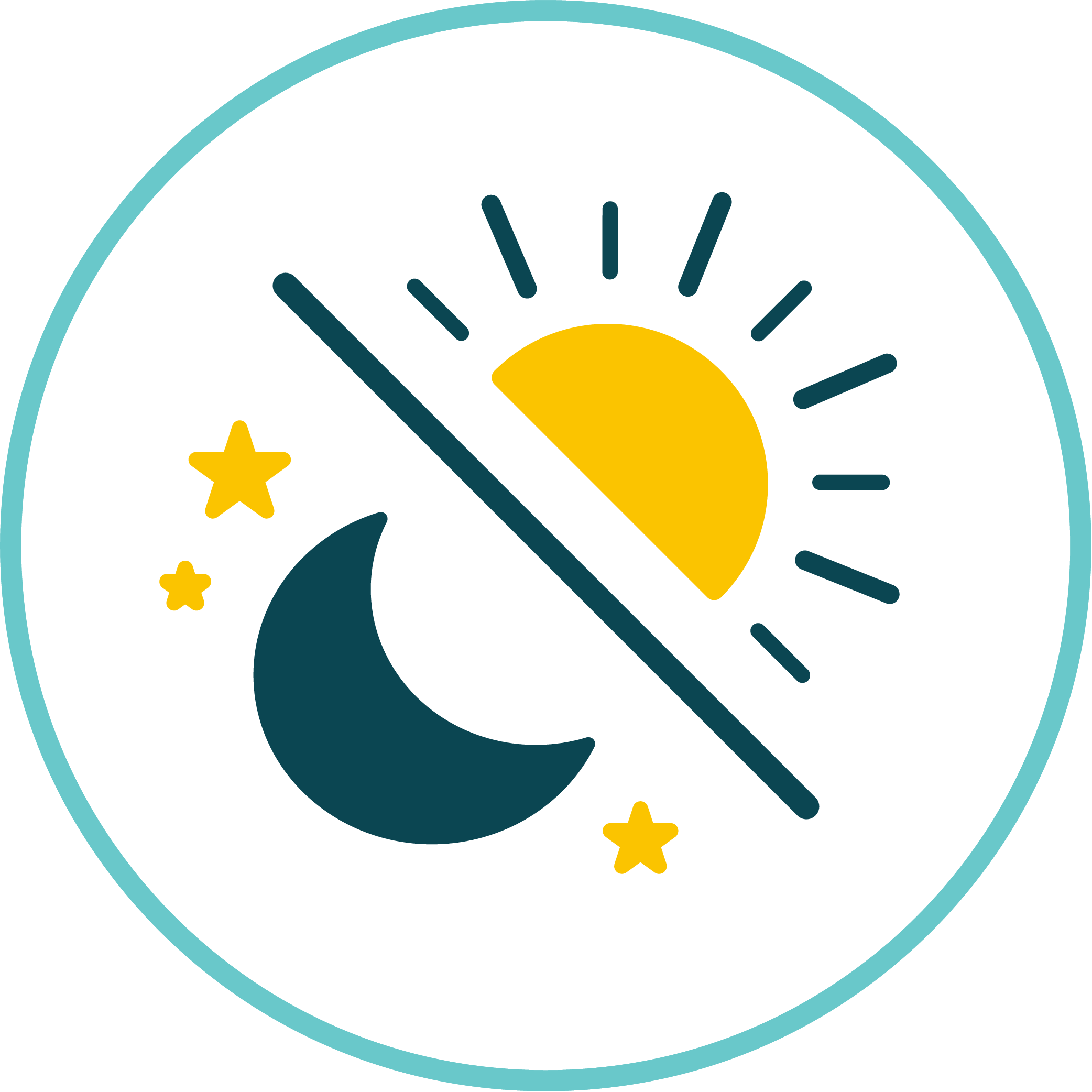 Dinner + Lunch Combo: Middle Eastern-Spiced Ground Beef
on Kale Tabbouleh with Hummus + in Walnut & Pepper Wraps
Dinner + Lunch Combo: Middle Eastern-Spiced Ground Beef
on Kale Tabbouleh with Hummus + in Walnut & Pepper Wraps
Cook once, eat twice! With our new Dinner + Lunch Combo recipe option, you've got the evening covered plus a marvellous mise en place for a second meal the next day. The linchpin of this twofer is our aromatic From Beirut to Baghdad spice blend, laden with cinnamon, cloves and mahleb (made from cherry stones). It seasons the browned ground beef that joins a kale tabbouleh salad with crisp veg and a dollop of hummus for dinner. Reheat the beef, add walnuts for crunch and roasted pepper for punch, rearrange the muhammara-like mixture over mayo-swiped tortillas and lunch is a wrap! ***Lunch cooking time: 10 min. Calories: 870/serving. **Nutritional facts: Total fat: 55 g | Saturated fat: 11 g | Sodium: 870 mg | Total carb: 57 g | Sugars: 4 g | Protein: 40 g | Fibre: 8 g. *See below for dinner nutritional facts.
510g Ground beef

3 Cucumbers

1 Tomato

1 Bunch of kale

110g Medium bulgur

25g Walnuts

30ml Mayonnaise

1 Roasted pepper

57g Hummus

90ml Lemon & Sumac vinaigrette

2 Wheat flour tortillas

6g From Beirut to Baghdad spices (garlic, cinnamon, cloves, coriander, nutmeg, black pepper, mahleb, white pepper, allspice, kosher salt)
Contains: Eggs, Sesame, Walnuts, Wheat
Medium pot
Large pan
Olive oil
Oil
Salt & pepper (S&P)
Microwave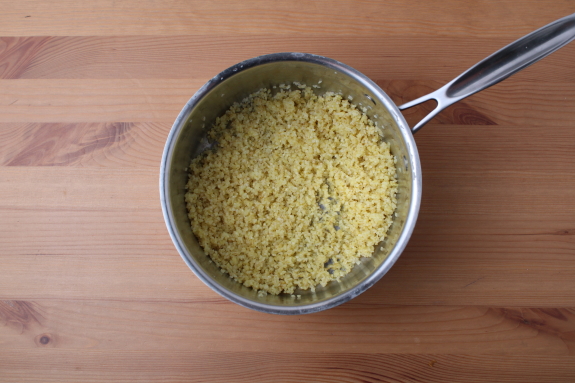 Cook the bulgur
In a medium pot, combine the bulgur, 1 ⅓ cups water (double for 4 portions) and a big pinch of salt; bring to a boil. Reduce the heat, cover and simmer, 6 to 8 min., until the bulgur is tender and the water has been absorbed. Drizzle with olive oil. Fluff and set aside to cool slightly.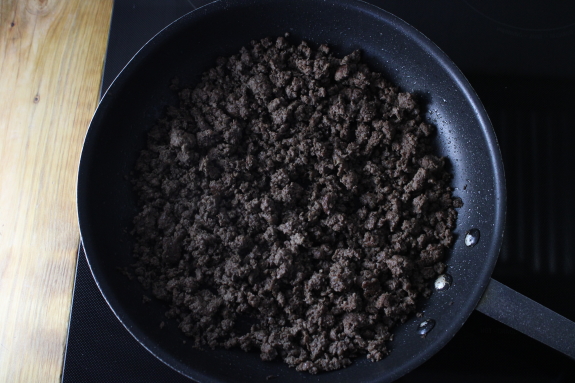 Cook the beef
Meanwhile, in a large pan, heat a drizzle of oil on medium-high. Add the beef*; season with the spices and S&P. Cook, breaking up the meat, 4 to 6 min., until cooked through.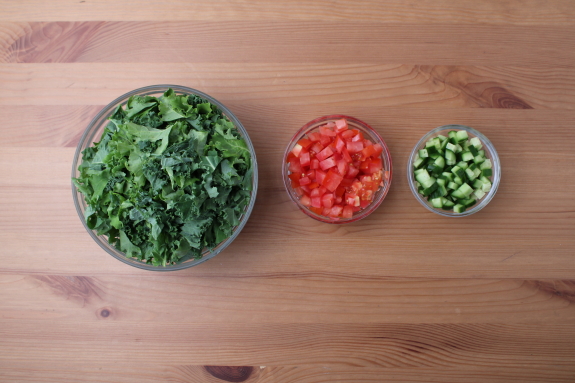 Mise en place
Meanwhile, remove the kale leaves from the stems; chop the leaves into small pieces. Small-dice the tomato. Small-dice 1 cucumber (double for 4 dinner portions). Set the remaining cucumbers aside in the fridge for lunch.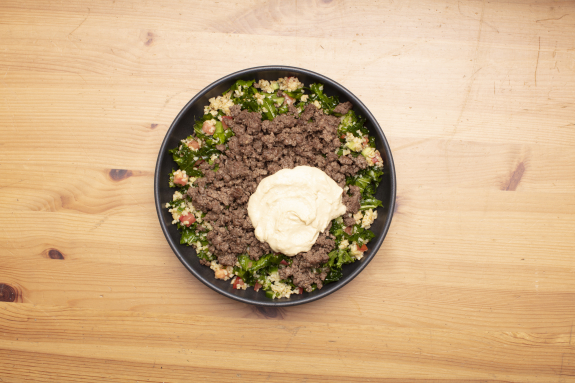 Dinner: Make the tabbouleh & serve
In a large bowl, combine the bulgur, tomato, diced cucumber, ¾ of the vinaigrette, ½ the kale, a generous drizzle of olive oil and S&P. Divide the tabbouleh between your bowls. Top with ½ the beef and the hummus. Set the remaining beef, kale and vinaigrette aside in the fridge for lunch. Bon appétit!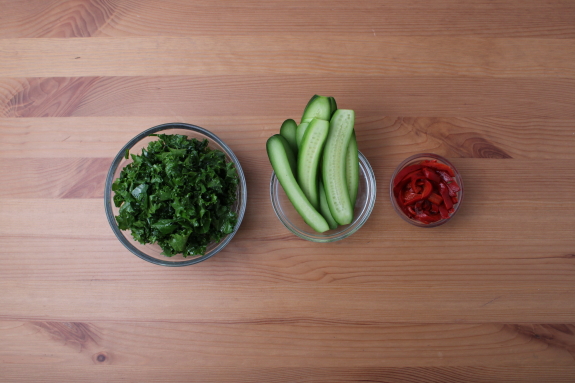 Lunch: Mise en place
Thinly slice the remaining cucumbers lengthwise. Thinly slice the roasted pepper. In a medium bowl, combine the remaining kale, remaining vinaigrette, a generous drizzle of olive oil and S&P.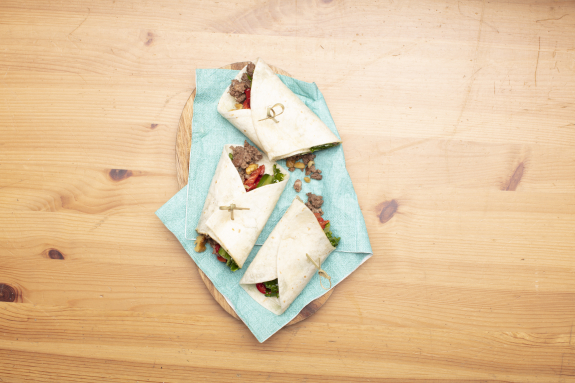 Lunch: Finish & serve
Microwave the reserved beef on high until warm. Add the walnuts; stir well. Divide the tortillas between your plates. Spread with the mayo. Top with the beef mixture, roasted pepper, cucumbers and kale. Tightly wrap each tortilla; halve crosswise. Bon appétit!
*Health Canada recommends cooking ground beef to a minimum internal temperature of 71°C.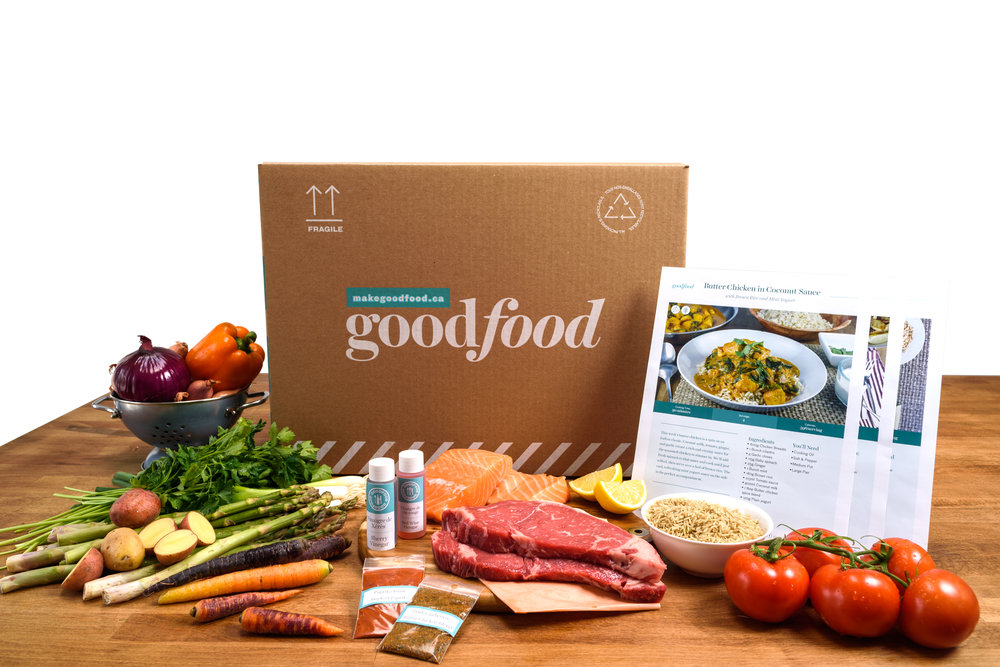 Let's get cooking
Discover a new way to cook with Goodfood: original recipes and the freshest ingredients delivered to your door every week.
Get started for just $4.99