Couscous Stuffed Zucchini
with Pesto & Goat Cheese
Couscous Stuffed Zucchini
with Pesto & Goat Cheese
We are slowly getting ready for the warmer weather that spring will bring our way. With that in mind, the test kitchen team has concocted a delicious vegetarian meal suited for brighter days. We are roasting hollowed out zucchini halves in preparation for stuffing them with an ultra tasty combination of fluffy couscous, sautéed peppers, zucchini and pesto. Once the zucchini are stuffed and bursting with delicious goodness, a sprinkling of goat cheese is the final touch. This is a light and flavourful creation worth getting excited about!
4g Arrabiata spice blend (garlic, onion, basil, parsley, oregano, thyme, chili (Cayenne pepper), black pepper, sage)
Medium pan
Sheet pan
Olive oil
Salt & pepper
Parchment paper
Grand bol résistant à la chaleur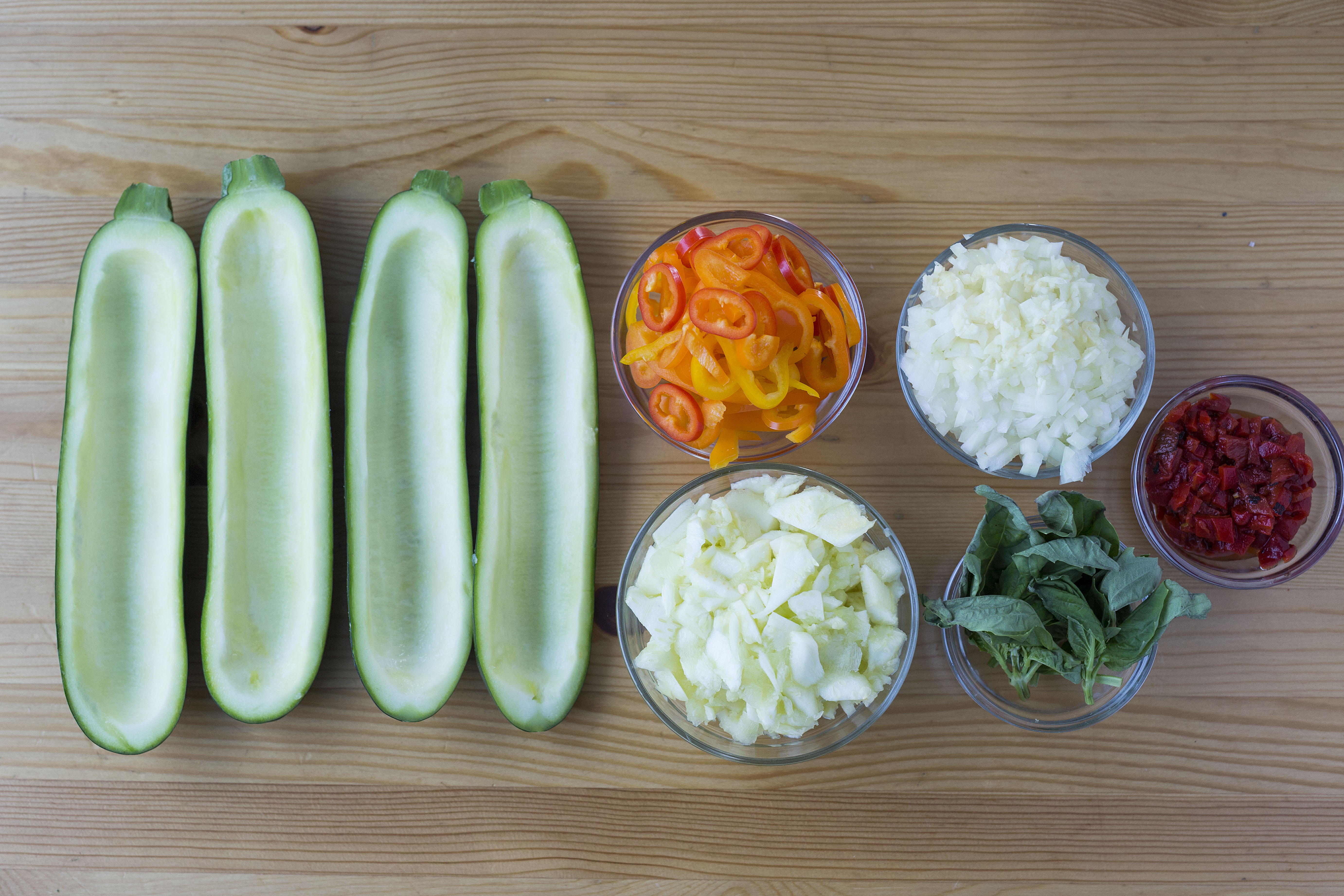 Mise en place
Preheat the oven to 450°F. Bring 1 cup of salted water to a boil (double for 4 portions). Cut the zucchini in half lengthwise. With a spoon, carefully scoop out the flesh from the centre of each zucchini half; roughly chop the flesh. Core and thinly slice the baby bell peppers. Small dice the roasted peppers. Peel, halve and small dice the onion. Mince the garlic; combine with the onion. Pick the basil leaves off the stems.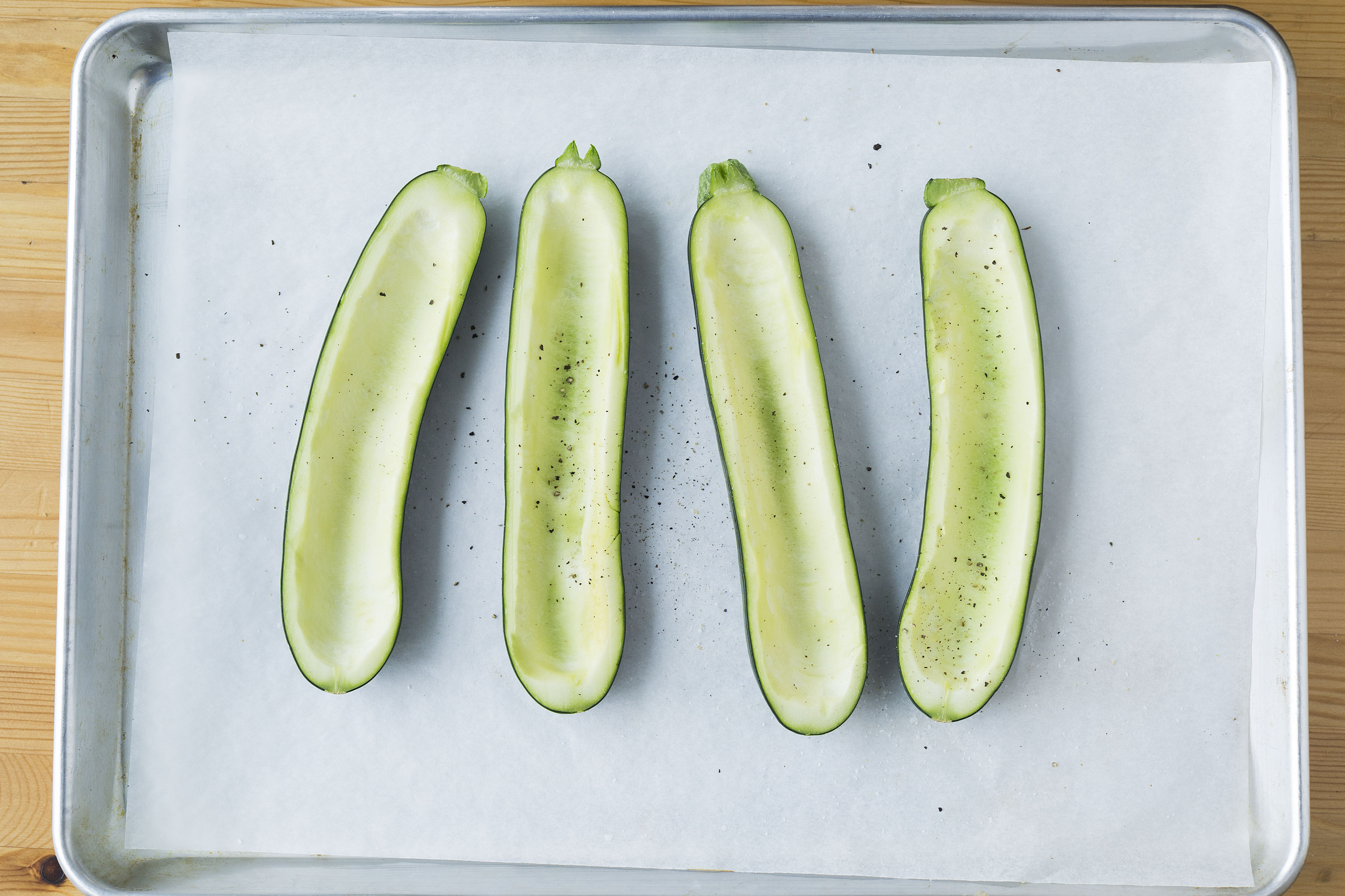 Roast the zucchini
Lay out the zucchini halves cut-sides up on a lined sheet pan, season with S&P. Bake in the oven, 6 to 8 minutes, until the zucchini have started to soften.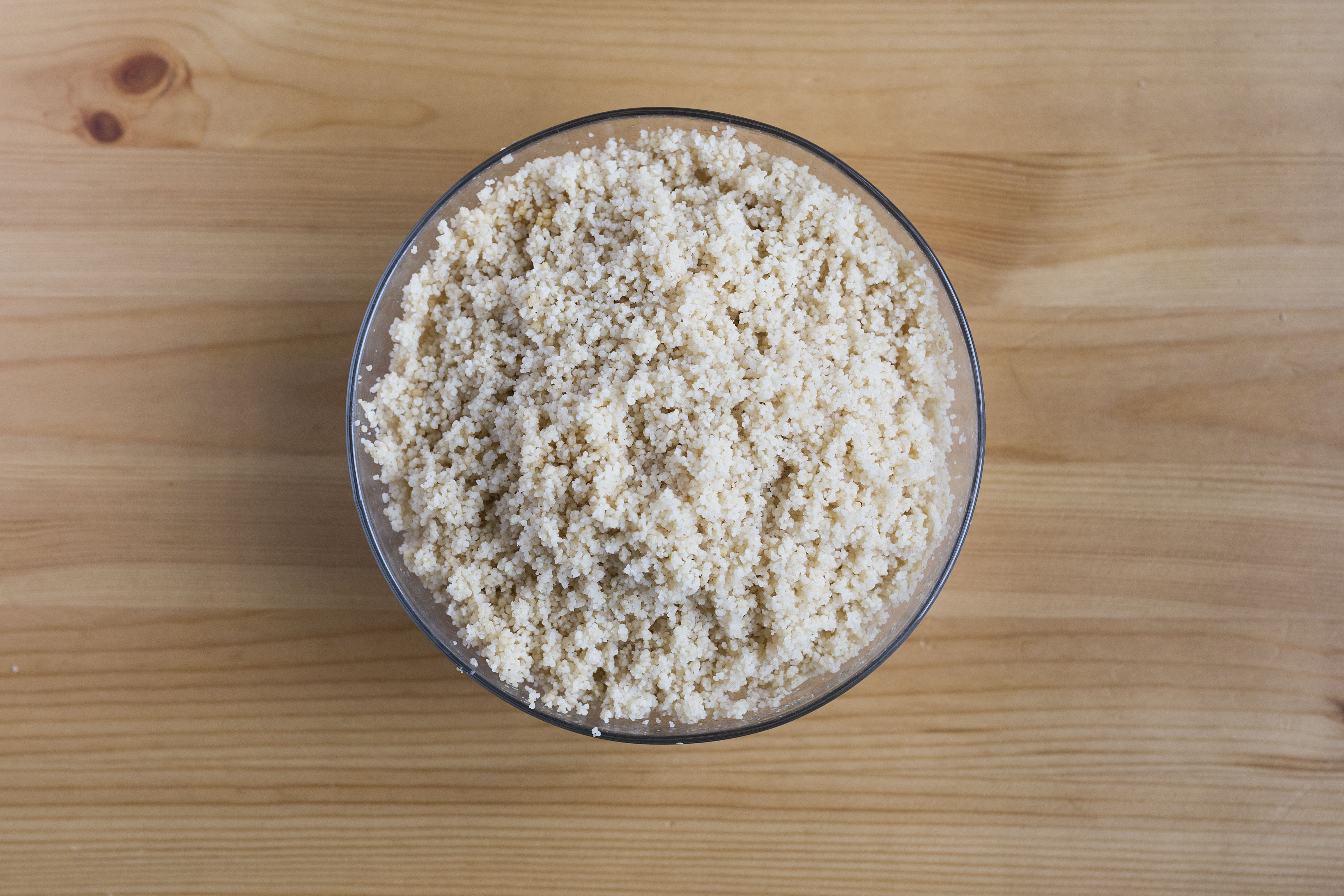 Cook the couscous
While the zucchini roast, in a large heatproof bowl, combine the couscous with the boiling water. Put a plate on top of the bowl to cover and let sit for 10 minutes. Fluff the cooked couscous with a fork and set aside in a warm spot.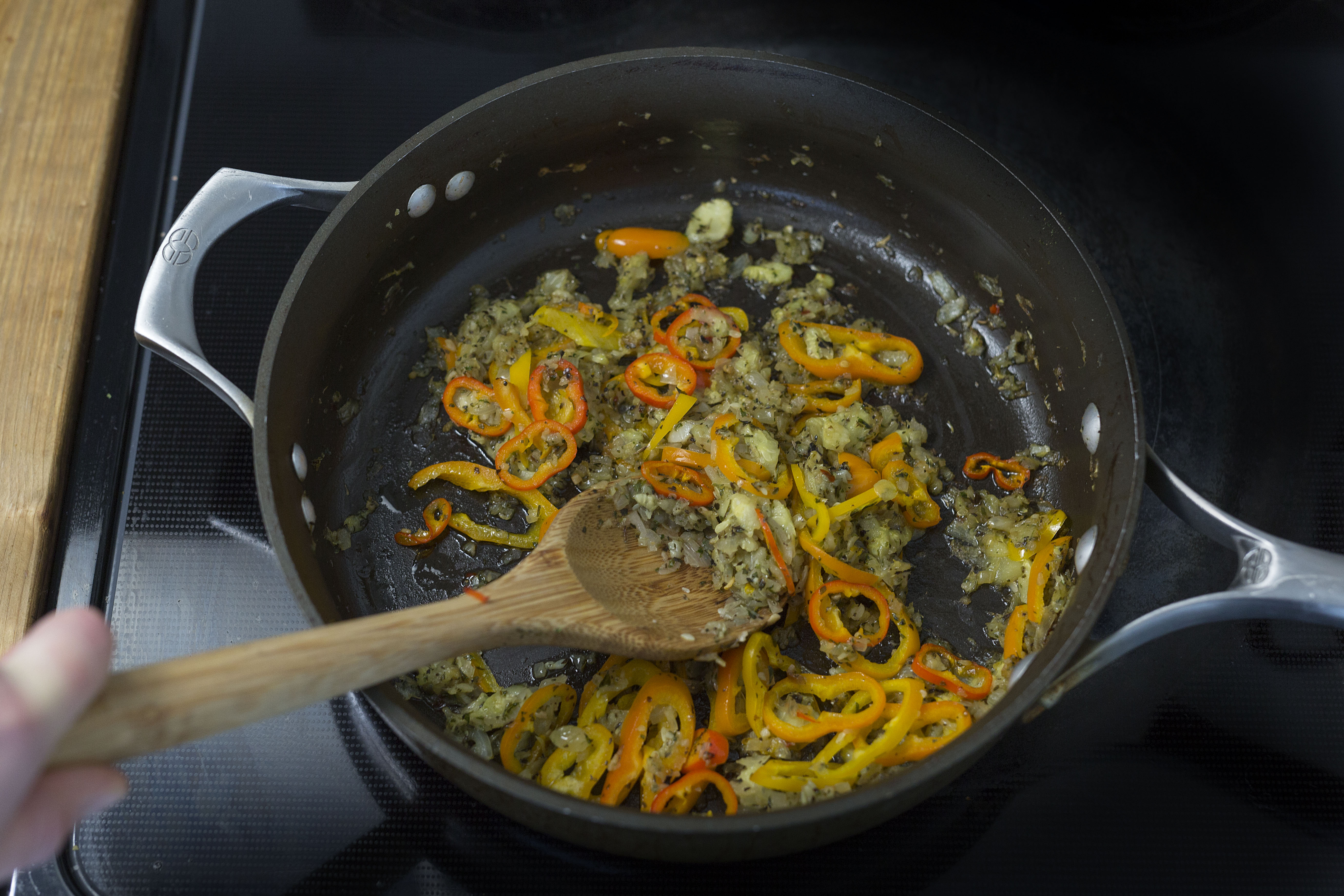 Cook the vegetables
In a medium pan, heat a drizzle of olive oil on medium. Add the onions and garlic. Cook, stirring frequently, 1 to 2 minutes, until the onions are translucent. Add the chopped zucchini; season with the spice blend and S&P. Cook, stirring occasionally, 2 to 3 minutes, until the vegetables are tender. Add the baby bell peppers and cook, 1 to 2 minutes, until beginning to soften.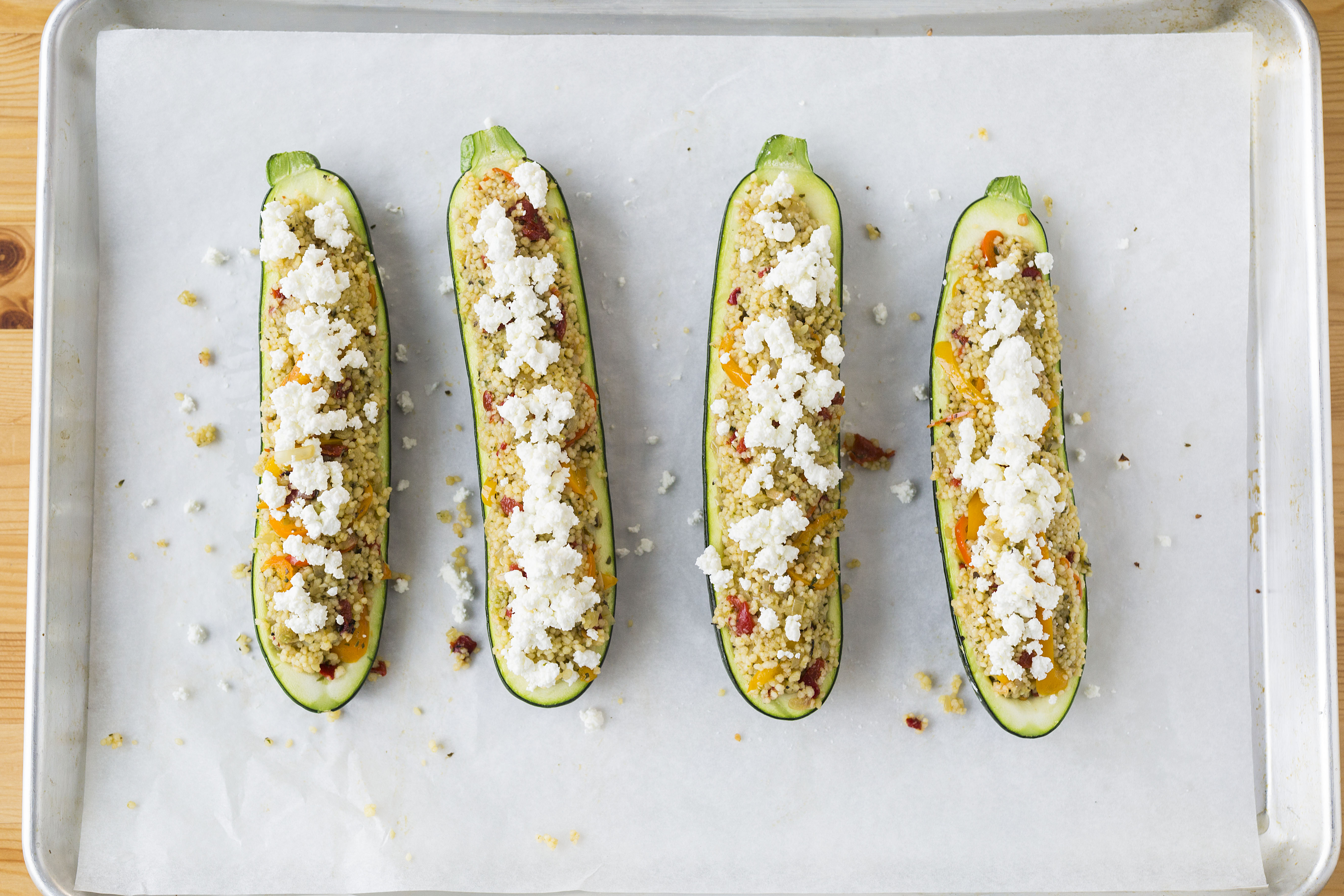 Finish the filling
To the pan of vegetables, add the roasted red peppers, pesto and couscous. Cook, stirring frequently, 1 to 2 minutes, until thoroughly combined; season with S&P to taste. Divide the filling between the partially roasted zucchini and top with the goat cheese.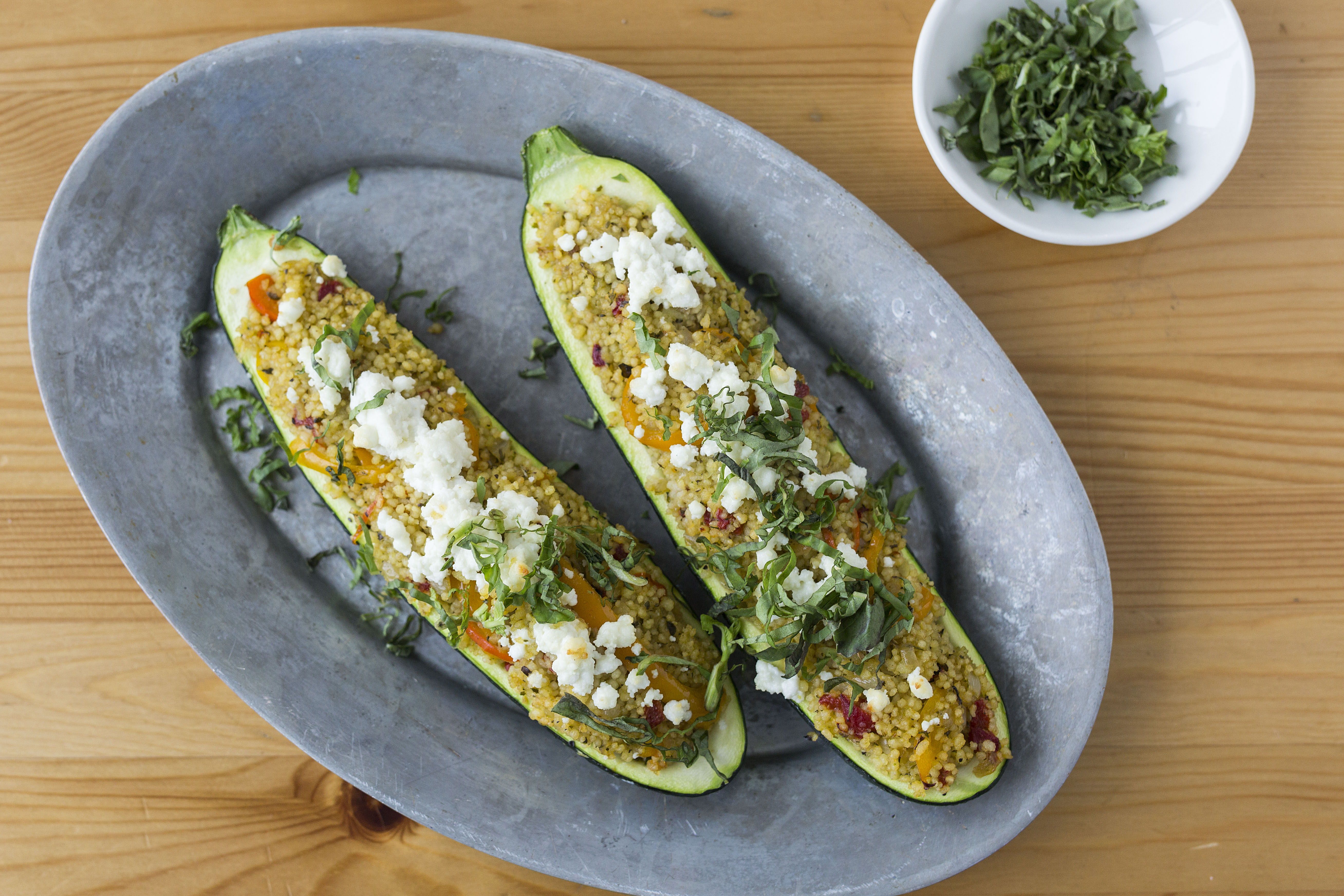 Finish & serve
Bake the zucchini in the oven, 6 to 8 minutes, until the cheese begins to melt. Divide the stuffed zucchini between your plates. Garnish with the basil (roughly chop before adding). Bon appétit!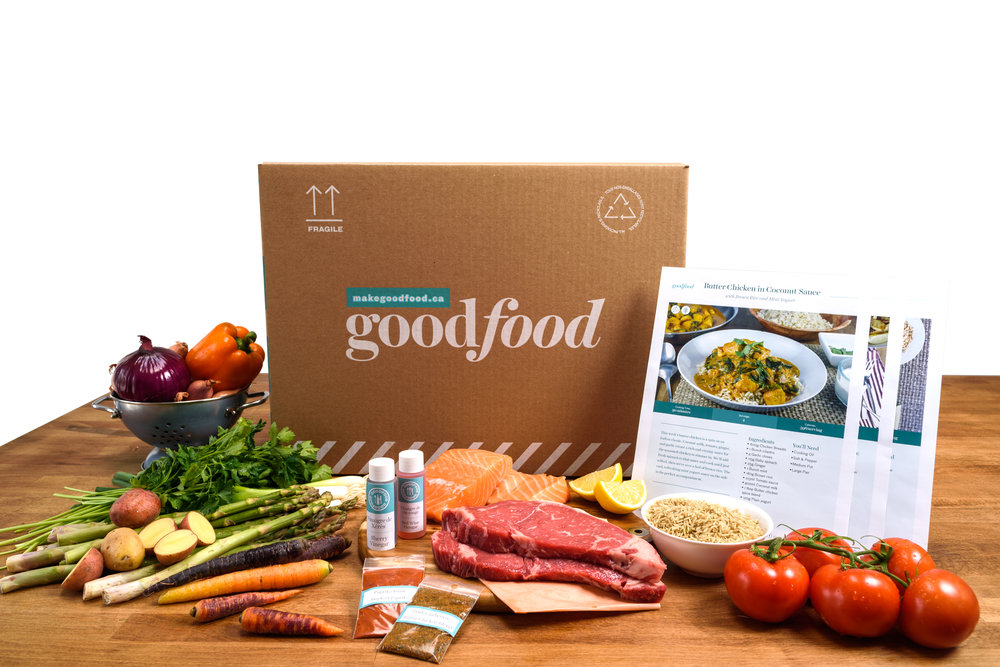 Let's get cooking
Discover a new way to cook with Goodfood: original recipes and the freshest ingredients delivered to your door every week.
Get started for just $8.75