Butternut Squash, Pesto & Ricotta Calzones
with Lettuce & Radish Salad
Butternut Squash, Pesto & Ricotta Calzones
with Lettuce & Radish Salad
Tonight, get your crew busy stuffing these tasty calzone "stockings" with spiced butternut squash, a layer of pesto-ricotta, marinara sauce and stringy mozzarella. The fresh dough pockets get crispy and golden in the oven, and good 'n' gooey on the inside. Serve the plump calzones next to a lettuce and radish salad dressed in a jolly balsamic vinaigrette with a bowl of marinara sauce for dipping.
90g Radishes

300g Diced butternut squash

120g Baby lettuce

200ml Marinara sauce

60ml Rich, Snappy Whipped Balsamic vinaigrette

60g Basil pesto

40g All-purpose flour

100g Mozzarella

100g Ricotta

737g Pizza dough

19g Alla Romana spice blend (sugar, sea salt, spices, garlic, onion, paprika, sunflower oil)
Contains: Eggs, Milk, Mustard, Sulphites, Cashews, Pine nuts, Wheat
2 Sheet pans
Olive oil
Salt & pepper
2 Eggs
Parchment paper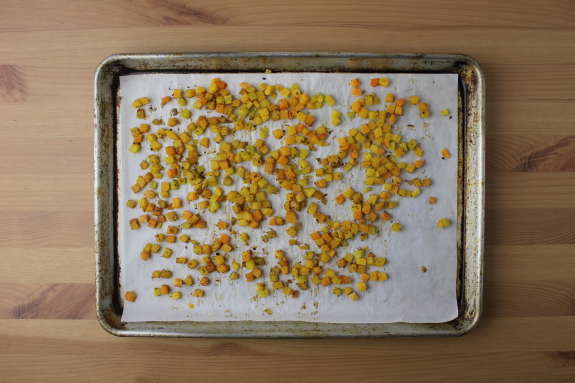 Roast the squash
Preheat the oven to 400°F. On a lined sheet pan, toss the butternut squash with a drizzle of olive oil; season with ¼ of the spice blend and S&P. Arrange in a single, even layer and roast in the oven, 14 to 16 minutes, until softened and beginning to brown.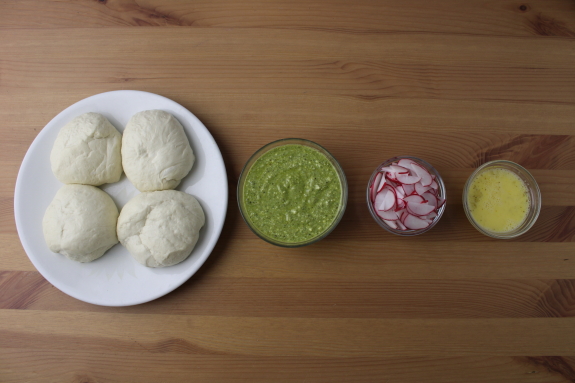 Mise en place
While the squash roasts, separate the pizza dough into 4 equal pieces; set aside to come up to room temperature. Halve the radishes lengthwise; thinly slice crosswise. In a medium bowl, combine the ricotta, pesto and 1 egg; season with ⅓ of the remaining spice blend and S&P. In a small bowl, whisk 1 egg until smooth; season with S&P.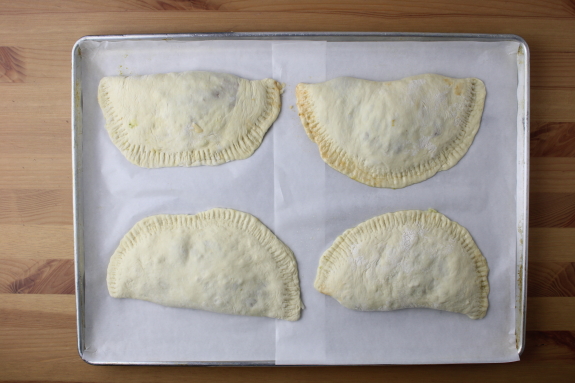 Prepare the calzones
Working one piece of dough at a time, dust a clean working surface and each dough piece with flour. Using your hands, stretch each piece into approximately 8-inch rounds. Divide ½ the marinara sauce between the rounds, leaving 1 inch free around the edges. Top each round with equal portions of the ricotta mixture, roasted squash and mozzarella. Fold the dough over the filling into the shape of a half-moon, pressing lightly with your fingers to seal the edges together; using a fork, press along the edge again to strengthen the seal. Carefully transfer the calzones to a second lined sheet pan (using 2 sheet pans if necessary).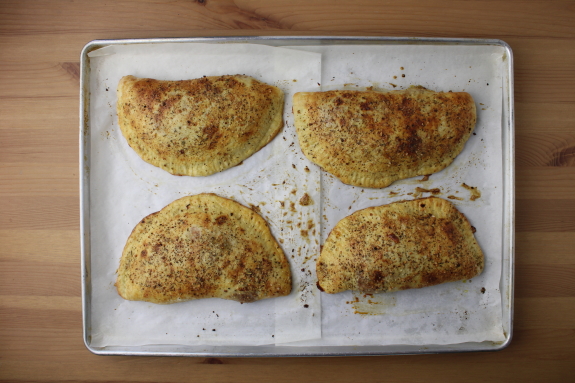 Bake the calzones
Brush the top of each calzone with the beaten egg; sprinkle ½ the remaining spice blend on top. Bake, 18 to 22 minutes, until golden brown and cooked through. Remove from the oven and let stand for at least 5 minutes before serving.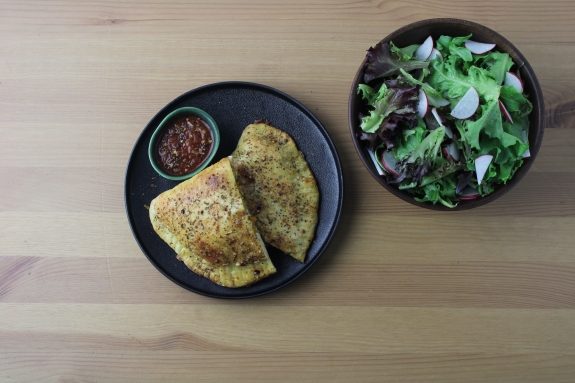 Finish & serve
In a large serving bowl, add the baby lettuce, radishes and vinaigrette; season with S&P and toss to combine. In a small bowl, combine the remaining marinara sauce with a drizzle of olive oil; season with the remaining spice blend. Divide the finished calzones between your plates. Serve the salad and marinara dipping sauce on the side. Bon appétit!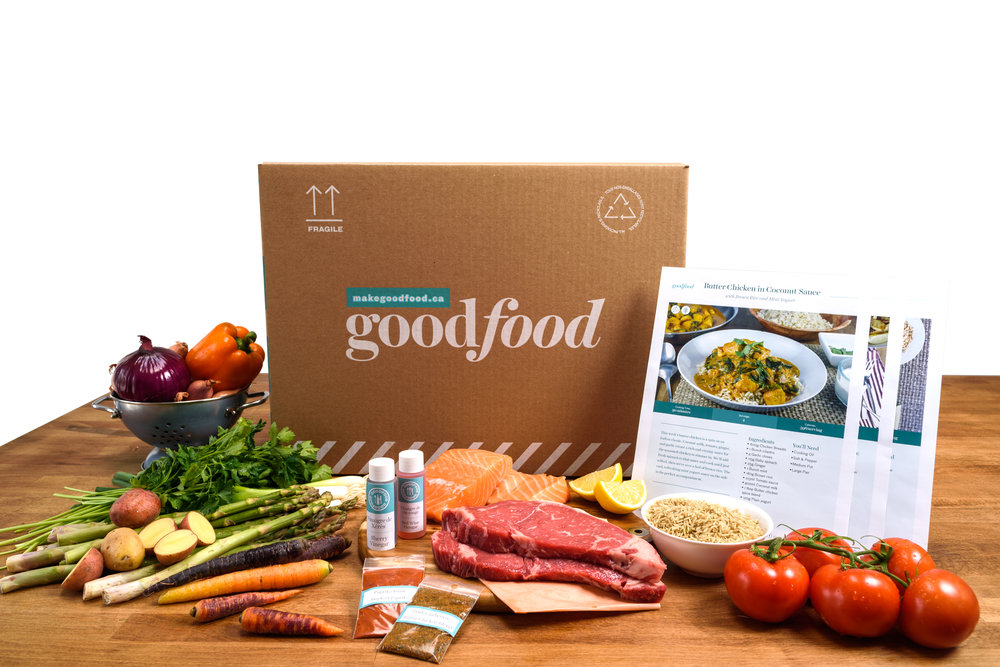 Let's get cooking
Discover a new way to cook with Goodfood: original recipes and the freshest ingredients delivered to your door every week.
Get started for just $4.99