Asparagus & Zucchini Risotto
with Parmigiano Reggiano
Asparagus & Zucchini Risotto
with Parmigiano Reggiano
Preparing a homemade risotto is often a labour-of-love that can seem daunting and time-consuming. Thankfully, the Goodfood test kitchen has cleverly developed a way to make the whole process effortless without skimping out on one inch of flavour. You simply need to combine your Arborio rice with our demi-glace, plenty of aromatics and water and let it all simmer gently away while you quickly sauté beautiful summer vegetables. Toss it all together with a handful of authentic Parmigiano Reggiano and fresh chives you are all set to impress your dinner guests!
2 Garlic cloves

1 Lemon

1 Shallot (or onion)

1 Zucchini

½ Bunch of asparagus

1 Bunch of chives

12g Vegetable demi-glace

165g Arborio rice

25g Parmigiano Reggiano
Medium pot
Large pan
Zester
Olive oil
2(4) tbsp Butter
Salt & pepper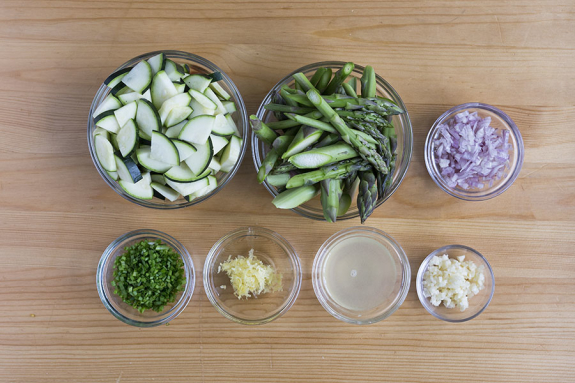 Mise en place
Peel, halve and mince the shallot. Snap off and discard the woody ends of the asparagus; cut each stalk in thirds on the bias. Zest and juice the lemon. Quarter the zucchini lengthwise; thinly slice widthwise. Thinly slice the chives. Mince the garlic.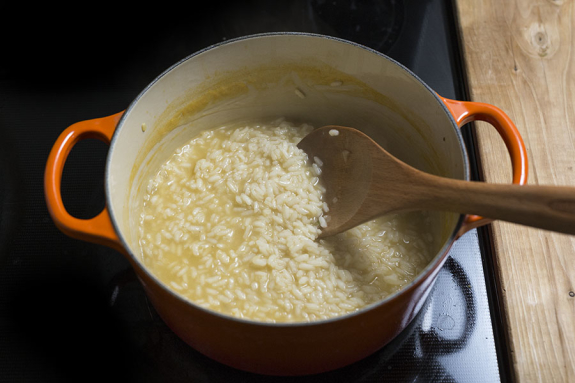 Start the risotto
In a medium pot, heat a drizzle of olive oil on medium-high. Add the shallot and ½ the garlic. Cook, 1 to 2 minutes, until the shallots have softened. Add the rice and cook, stirring constantly, 30 seconds to 1 minute, until the rice is slightly translucent. Add the demi-glace and 3 cups of water (double for 4 portions); season with S&P. Bring to a boil then reduce the heat to a simmer. Cook, stirring occasionally, 20 to 25 minutes until most of the liquid has been absorbed and the rice is al dente (still firm to the bite).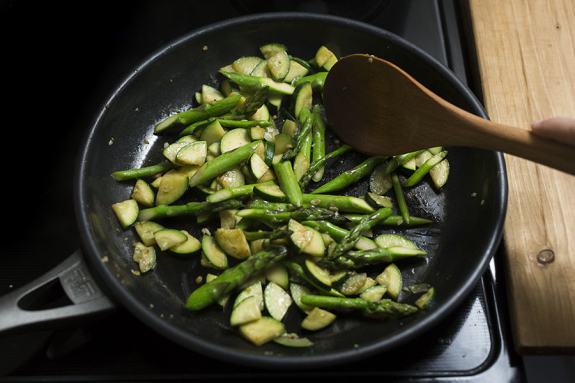 Cook the vegetables
While the rice cooks, in a large pan, heat a drizzle of olive oil on medium-high. Add the remaining garlic and cook, stirring frequently, 30 seconds to 1 minute, until fragrant. Add the zucchini and asparagus and cook, stirring occasionally, 3 to 4 minutes, until the vegetables begin to soften; season with S&P to taste.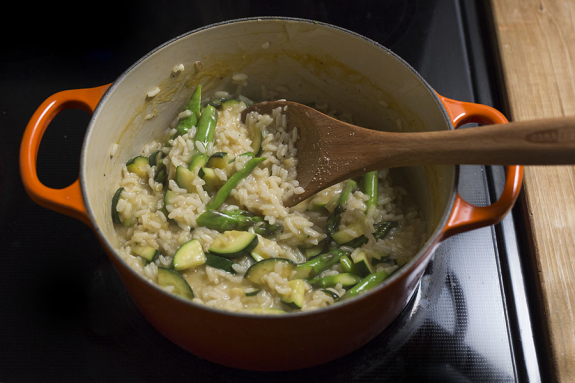 Finish the risotto
Add 2 tbsp of butter (double for 4 portions), Parmesan and as much lemon juice as you'd like to the cooked rice. Add the cooked vegetables and stir to thoroughly combine. Cook for another 2 minutes, season with S&P to taste.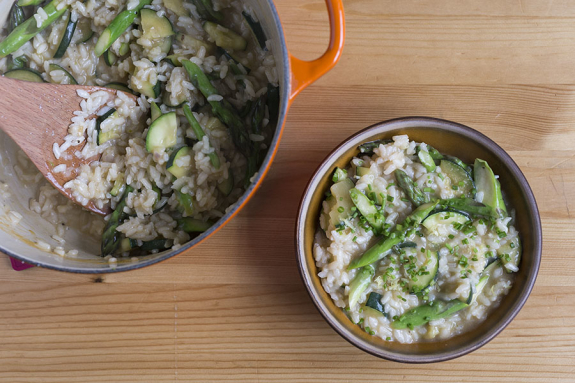 Plate your dish
Divide the finished risotto between your plates. Garnish with the chives and as much lemon zest as you'd like. Bon appétit!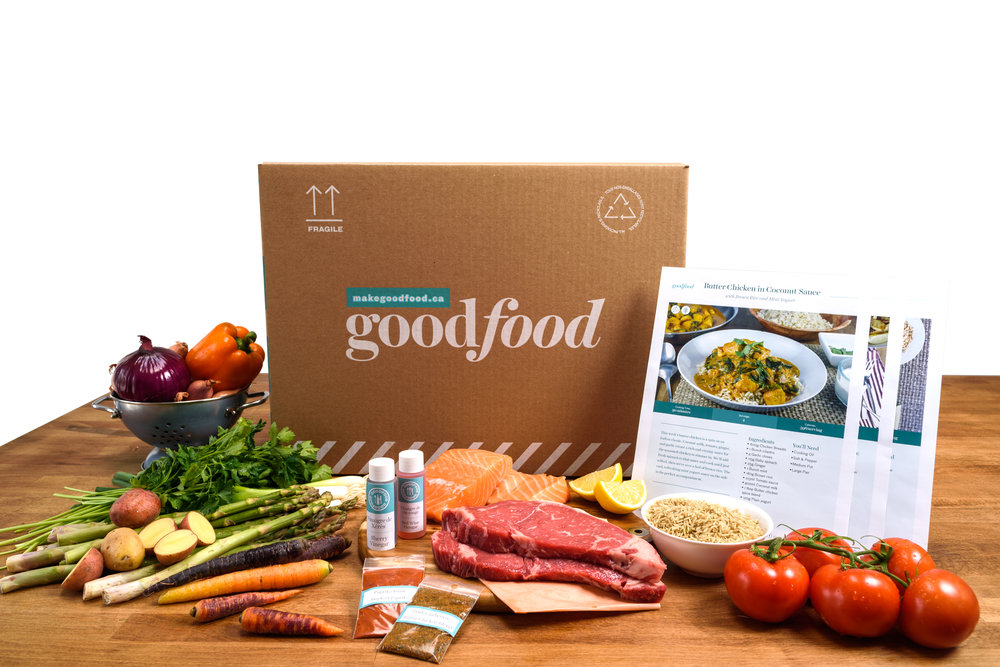 Let's get cooking
Discover a new way to cook with Goodfood: original recipes and the freshest ingredients delivered to your door every week.
Get started for just $4.99