Apricot-Glazed Pork Skewers
with Grilled Broccolini & Sweet Potato Mash
Apricot-Glazed Pork Skewers
with Grilled Broccolini & Sweet Potato Mash
In this recipe full of summer flavors ideal for cooking on the BBQ, pork chops are cubed and tossed with a bourbon-infused rub, then skewered and layered with red onion and basted with a sweet and salty sauce of apricot glaze, apple cider vinegar and soy sauce. Served with creamy mashed sweet potatoes and charred broccolini, this meal is an irresistible combination of colors, tastes and textures!
600g Pork chops

1 Onion (or shallot)

680g Sweet potatoes

1 Bunch of broccolini

30ml Soy sauce reduced in sodium

30ml Apple cider vinegar

2 Roasted garlic cloves

80g Apricot jam

8 Bamboo skewers

10g Bourbon spice blend (salt, paprika, natural bourbon flavour, chili powder, onion, garlic, yeast extract, black pepper, sunflower oil, Cayenne pepper, mustard, cumin, hickory smoked flavour)
Small pot
Medium pot
Large pan
Strainer
Peeler
Olive oil
2 tbsp Butter
Salt & pepper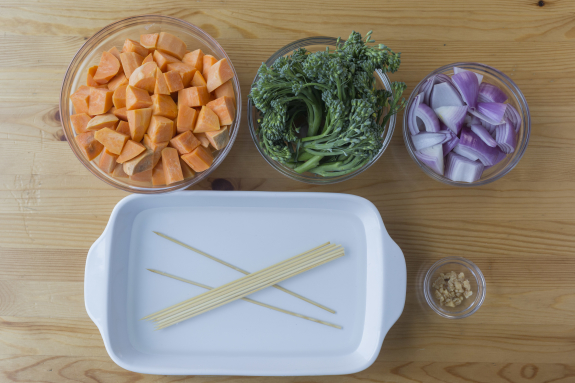 Mise en place
Bring a medium pot of salted water to a boil. Peel and medium dice the sweet potatoes. Peel, halve and cut the onion into 1-inch cubes. Mince the garlic. Cut and discard the stem ends off the broccolini. Set the skewers in a shallow bowl and cover with water.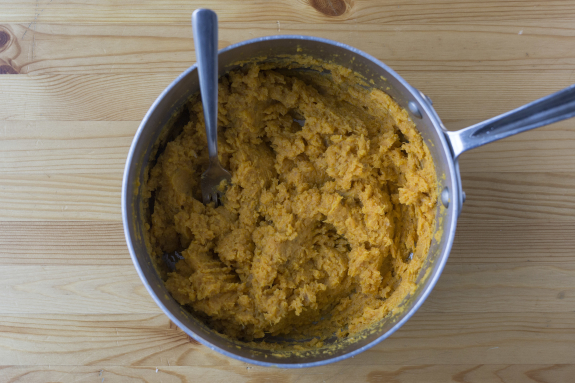 Make the sweet potato mash
Add the sweet potatoes to the pot of boiling water. Cook, 14 to 16 minutes or until tender when pierced with a fork. Drain thoroughly and return to the pot. Off the heat, add 2 tbsp of butter and the garlic; drizzle with olive oil. Using a fork, mash to your desired consistency; season with S&P to taste. Set aside in a warm spot.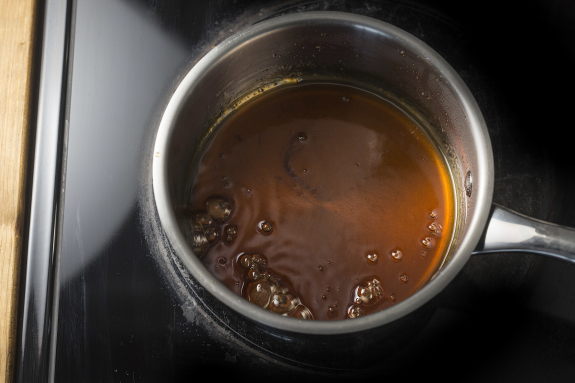 Make the glaze
While the potatoes cook, in a small pot, add the jam, vinegar and soy sauce; bring to a boil. Reduce the heat to low and cook, 1 to 2 minutes, until thickened.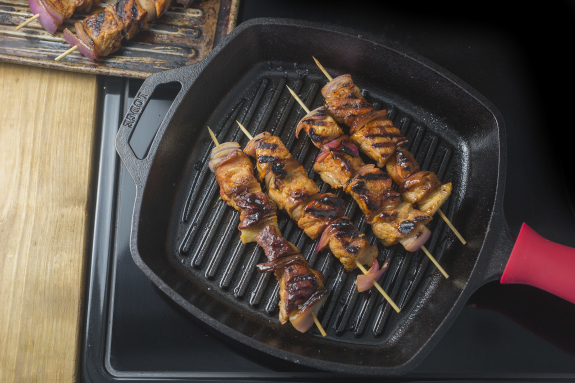 Prepare & grill the pork
Heat your BBQ (or a large pan) on medium-high and drizzle with oil. Pat the pork chops dry with paper towel and cut into bite-sized cubes; season with the spice blend and S&P. Drain the skewers and thread each one with 4 or 5 pieces of pork and onion, leaving 1 inch of skewer free on the bottom. Grill 1 to 3 minutes on all four sides, brushing them with the glaze, until browned and cooked through. Wipe out the pan (if using).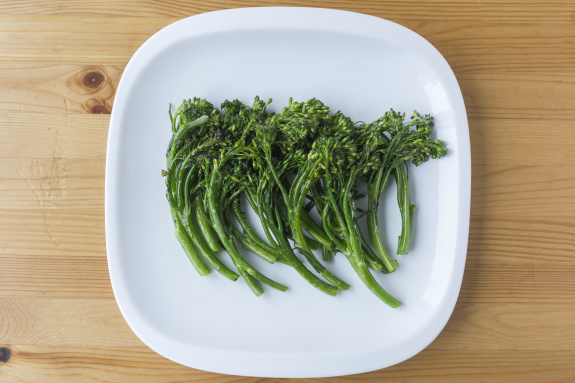 Grill the broccolini
Toss the broccolini with a generous drizzle of olive oil; season with S&P. Add the seasoned broccolini to the grill (or pan) and cook, 1 to 2 minutes per side, until charred and crispy. Transfer to a plate.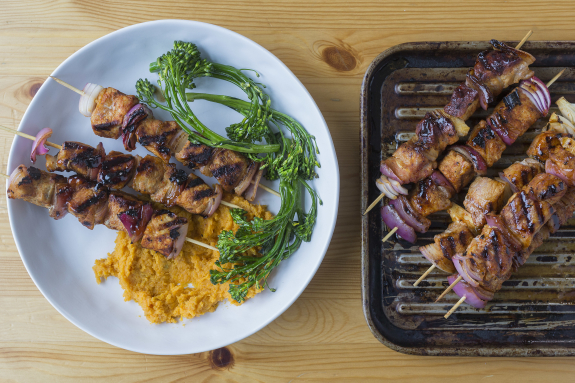 Finish & serve
Divide the grilled broccolini and glazed skewers between your plates. Serve the sweet potato mash on the side. Bon appétit!
*Health Canada recommends cooking pork to a minimum internal temperature of 71°C.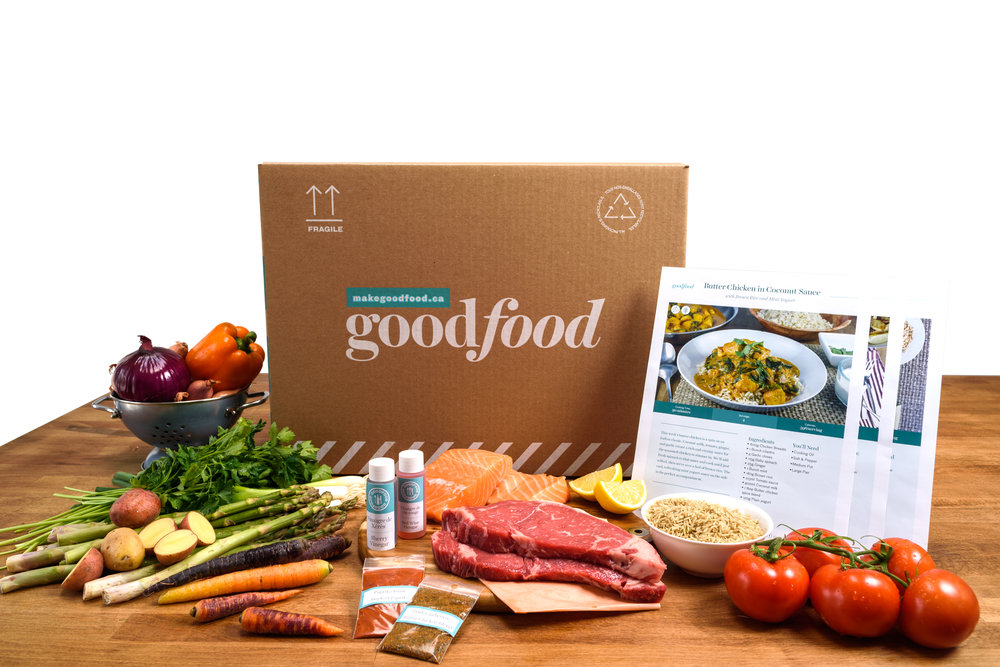 Let's get cooking
Discover a new way to cook with Goodfood: original recipes and the freshest ingredients delivered to your door every week.
Get started for just $4.99