Zucchini 'Parmigiana' with Fresh Mozzarella
Spaghettini with Homemade Marinara & Mesclun Salad
Zucchini 'Parmigiana' with Fresh Mozzarella
Spaghettini with Homemade Marinara & Mesclun Salad
Whether you go meat-free on Mondays or every day, this family- (and vegetarian-) friendly version of parmigiana is sure to please. We put thin slices of zucchini to good use to make our veggie 'cutlets'; they're seasoned and breaded before being baked until golden brown. We prepare a homemade marinara sauce, too, as well as thin strands of spaghettini cooked until just al dente. Bites of fresh mozzarella adorn this sumptuous dish, as does a basil garnish. Finish this satisfying meal by dressing baby lettuce and cucumber with a balsamic dressing. Buon appetito!
120g Baby lettuce

3 Garlic cloves

1 Bunch of basil

2 Zucchini

2 Cucumbers

60ml Classic balsamic dressing

40g All-purpose flour

120g Panko

796ml Tomatoes (canned)

340g Spaghettini

125g Fresh mozzarella

22g Homemade marinara spice blend (salt, garlic, sugar, red bell pepper, green bell pepper, sunflower oil, paprika, turmeric, Cayenne pepper, brown sugar, onion, basil)
Contains: Egg, Gluten, Milk, Mustard, Sulphites, Wheat
Medium pot
Large pot
Sheet pan
Olive oil
Salt & pepper
2 Eggs
Parchment paper
Strainer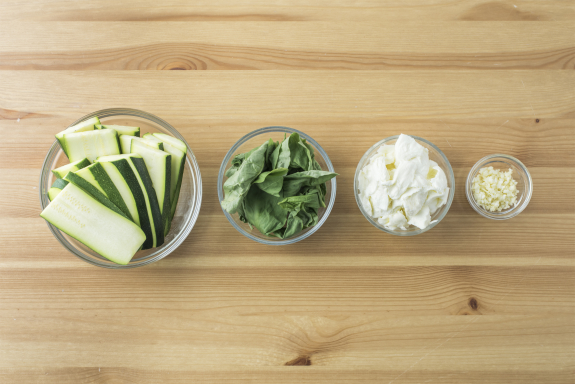 Mise en place
Preheat the oven to 450°F. Bring a large pot of salted water to a boil. Halve the zucchini crosswise; slice each half into ¼-inch-thick slices. Tear the fresh mozzarella into bite-sized pieces. Mince the garlic. Pick the basil leaves off the stems.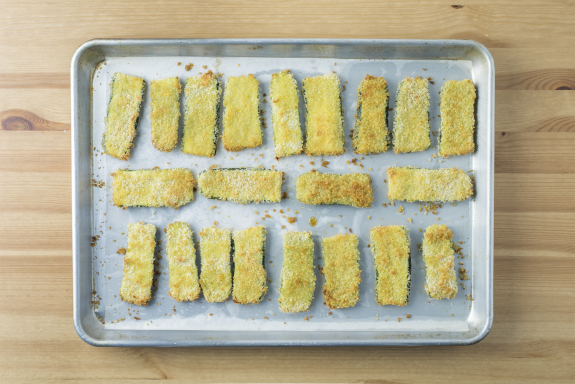 Prepare & roast the zucchini
Place the flour and panko into separate bowls; season both with S&P. Crack 2 eggs into a third bowl; beat until smooth and season with S&P. Season the zucchini pieces with S&P. Working one piece at a time, thoroughly coat the zucchini piece in flour (tap off excess), then in egg (let excess drip off) and panko (press to adhere). Transfer to a lined sheet pan drizzled with olive oil. Arrange the zucchini pieces in a single, even layer. Drizzle generously with olive oil and bake, turning halfway through, 16 to 18 minutes, until golden brown.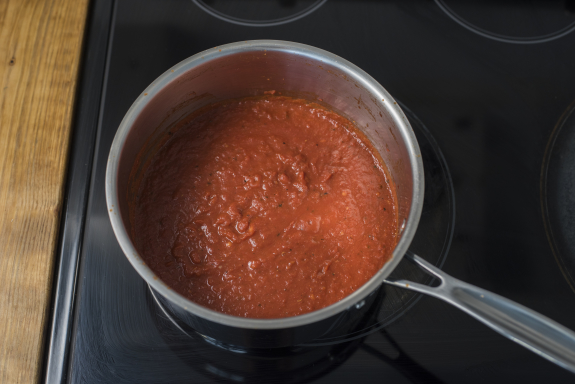 Make the marinara
While the zucchini roasts, in a medium pot, heat a generous drizzle of olive oil on medium-high. Add the garlic and cook, stirring constantly, 30 seconds to 1 minute, until fragrant; season with the spice blend. Add the tomatoes and ⅓ of the basil; season with S&P. Reduce the heat to simmer and cook, 10 to 12 minutes, until the flavours have combined.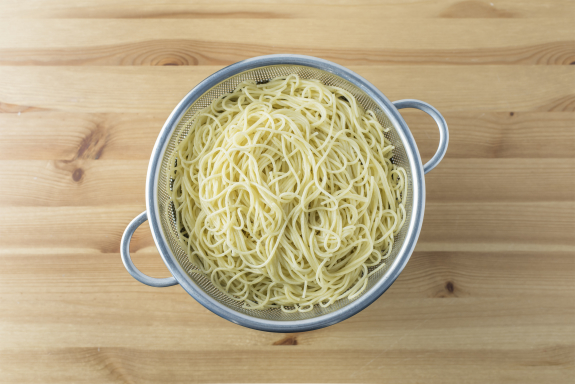 Cook the pasta
While the sauce simmers, add the pasta to the pot of boiling water and cook, 6 to 8 minutes, until al dente (still slightly firm to the bite). Reserving 1 cup of cooking water, drain the pasta thoroughly. Toss with a drizzle of olive oil to prevent sticking and set aside in a warm spot.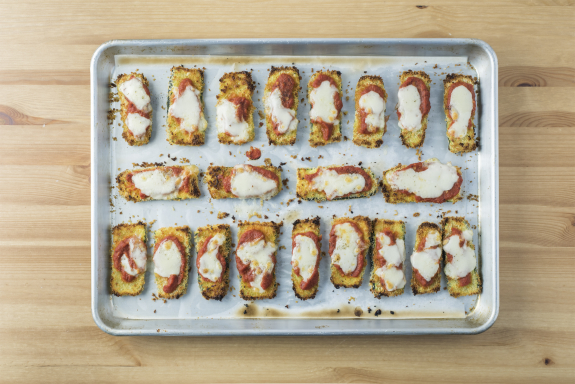 Finish the zucchini 'parmigiana'
Remove the zucchini sheet pan from the oven. Top each zucchini piece with a spoonful of the marinara sauce and the pieces of mozzarella; season with S&P. Switch the oven to broil and cook, 2 to 3 minutes, until the cheese is melted and golden brown.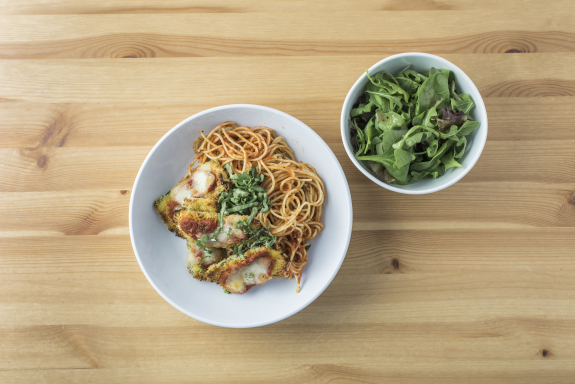 Finish & serve
To the pot of remaining marinara sauce, add the cooked pasta, reserved cooking water and ½ the remaining basil (tear with your hands before adding); drizzle with olive oil and season with S&P. Thinly slice the cucumbers. In a large serving bowl, combine the lettuce and cucumbers. Drizzle with as much dressing as you'd like; season with S&P. Divided the finished zucchini 'parmigiana' and spaghettini between your plates. Garnish with the remaining basil (roughly chop before serving). Serve the salad on the side. Bon appétit!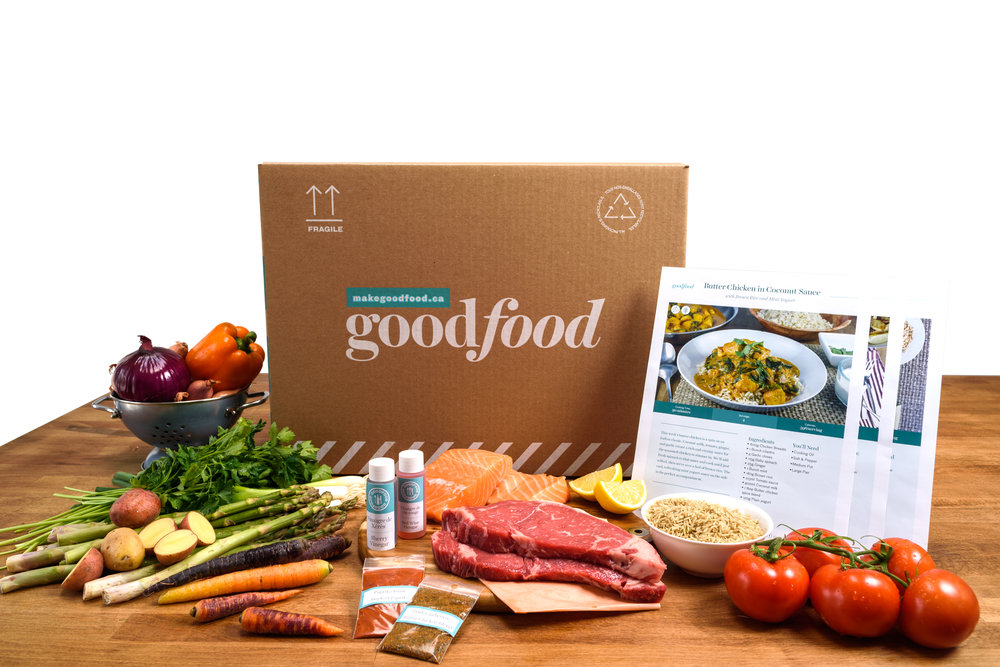 Let's get cooking
Discover a new way to cook with Goodfood: original recipes and the freshest ingredients delivered to your door every week.
Get started for just $4.99