Za'atar-Spiced Cherry Tomato Flatbread
with Spiced Sour Cream & Pepper-Arugula Salad
Za'atar-Spiced Cherry Tomato Flatbread
with Spiced Sour Cream & Pepper-Arugula Salad
We could eat hummus and pizza by the pound, so it seemed only natural to us that the two should converge at some point. Tonight, you'll be rolling out your pizza dough yourself (check you out!) before baking it with olive oil and garlic. Once it's ready, top that baby with za'atar-spiced sour cream, blistered, almost bursting cherry tomatoes, peppery arugula, fresh cilantro and pieces of bell pepper. Spoon a few heaping dollops of hummus overtop and finish with a drizzle of olive oil and more fresh cilantro and you've got the best of both worlds on your plate.
1 Bunch of cilantro

60g Baby arugula (or baby spinach)

2 Garlic cloves

140g Cherry tomatoes

1 Bell pepper

30ml Red wine vinegar

57g Hummus

129ml Sour cream

454g Pizza dough

10g Za'atar spice blend (sesame seeds, oregano, basil, thyme, savory, lemon peel, marjoram, kosher salt)
Contains: Gluten, Milk, Sesame Seeds, Sulphites, Wheat
Medium pan
Sheet pan
Olive oil
Oil
Salt & pepper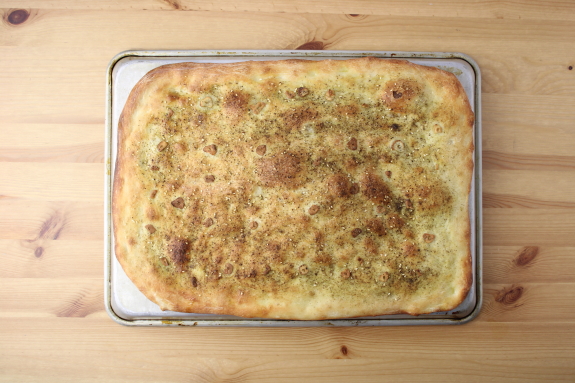 Bake the flatbread
Preheat the oven to 450°F. Thinly slice the garlic. Lightly brush a clean work surface with olive oil. Roll or spread the dough out until ½-inch thick. Very carefully move the dough onto the lightly greased back of a sheet pan. Top with the dough with a drizzle of olive oil and ½ the garlic; season with ⅓ of the spice blend and S&P. Bake the flatbread on the bottom rack of the oven, 13 to 15 minutes, until the dough is golden.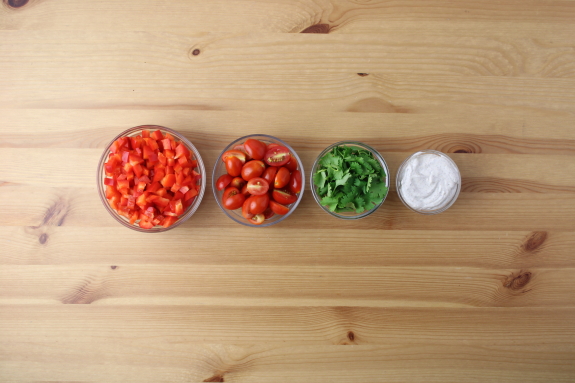 Mise en place
While the flatbread bakes, halve the cherry tomatoes. Core and small dice the bell pepper. Pick the cilantro leaves off the stems. In a small bowl, combine the sour cream and a drizzle of olive oil; season with ½ the remaining spice blend and S&P.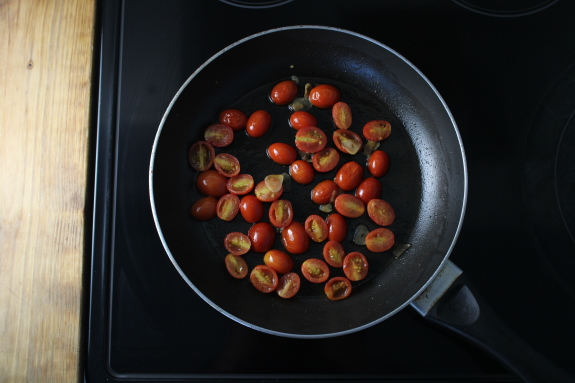 Cook the tomatoes
In a medium pan, heat a drizzle of oil on medium-high. Add the remaining garlic and cook, stirring frequently, 30 seconds to 1 minute, until fragrant. Add the cherry tomatoes and cook, stirring frequently, 2 to 4 minutes, until beginning to soften; season with the remaining spice blend and S&P.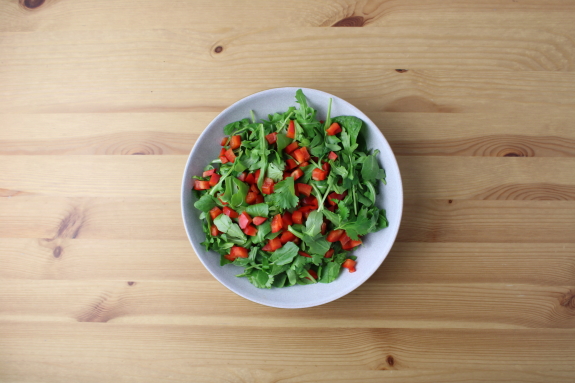 Make the salad
While the cherry tomatoes cook, in a large bowl, combine the vinegar and 3 tbsp olive oil (double for 4 portions); season with S&P. Add the peppers, arugula and ½ the cilantro leaves; toss to combine thoroughly.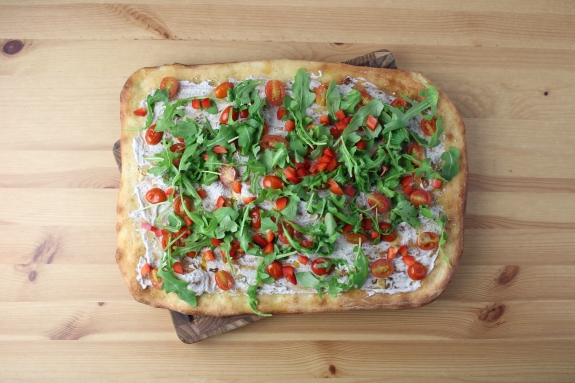 Assemble the flatbread
Spread the seasoned sour cream over the baked flatbread in a single, even layer. Top with the cooked cherry tomatoes and ½ the salad. Transfer the assembled flatbread to a cutting board and cut into wedges.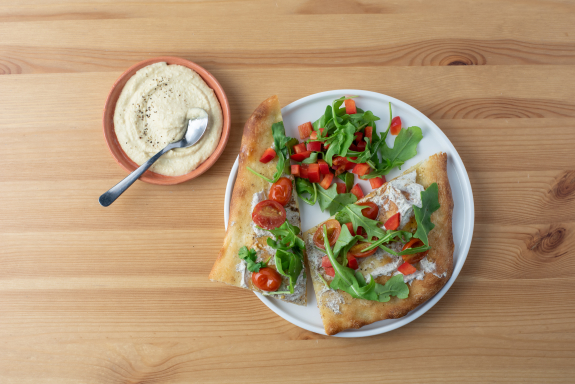 Plate your dish
Divide the finished flatbread wedges and remaining salad between your plates. Garnish the flatbread with the hummus, remaining cilantro leaves and a drizzle of olive oil. Bon appétit!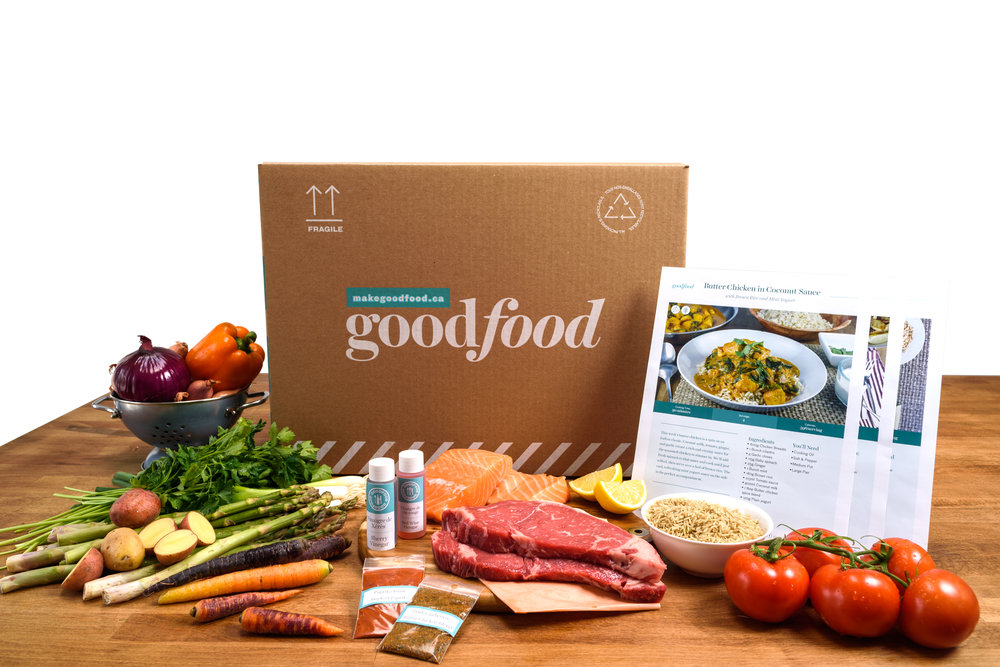 Let's get cooking
Discover a new way to cook with Goodfood: original recipes and the freshest ingredients delivered to your door every week.
Get started for just $4.99