Vegetarian Pad Thai with Seared Tofu
Broccoli & Sweet Bell Peppers
Vegetarian Pad Thai with Seared Tofu
Broccoli & Sweet Bell Peppers
Pad Thai is definitely one of our go-to take out favourites. Engineering a way to recreate this crave-worthy dish at home was a mission we were excited to accomplish. Turning our version into a jam-packed vegetarian option with rice noodles is the jewel in our crown! We start by unlocking the key to the sweet and savoury sauce that makes Pad Thai so irresistible, mixing freshly squeezed lime juice with soy, brown sugar and a few other surprises. We're tossing in enough pan-seared tofu, broccoli, bell peppers and of course, crushed peanuts, to make eating in a very rewarding treat!
1 Garlic clove

1 Lime

1 Shallot

1 Broccoli

1 Bell pepper

1 Bunch of cilantro

120ml Soy sauce reduced in sodium

60g Brown sugar

90ml Rice vinegar

90ml Tomato paste

225g Rice noodles

30g Chopped peanuts

1 Package of tofu
Large pan
Oil
Salt & pepper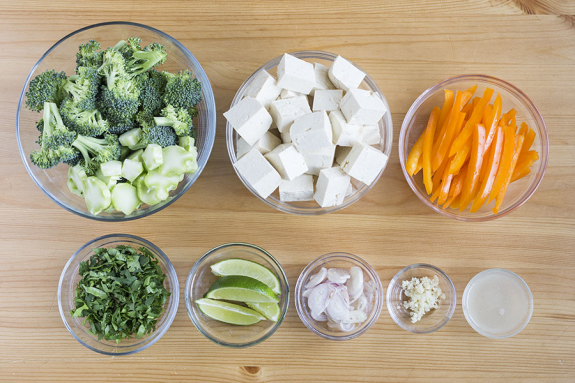 Mise en place
Bring a large pot of water to a boil. Separate the broccoli head from the stem. Cut the broccoli head into bite-sized florets. Peel the broccoli stem and slice into ¼-inch-thick rounds. Mince the garlic. Peel, halve and thinly slice the shallot. Core and julienne the bell pepper. Halve the lime; juice one half and cut the other half into wedges. Pat the tofu dry with paper towel and cut into 1-inch cubes. Roughly chop the cilantro leaves and stems.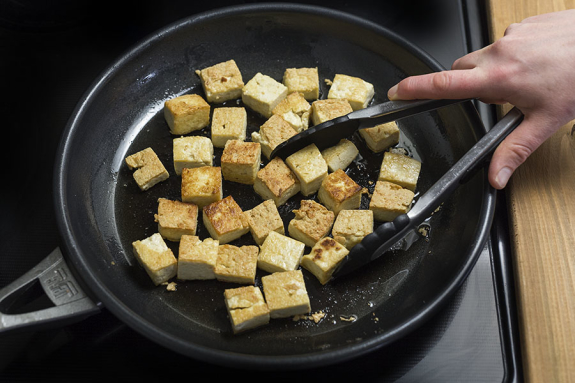 Brown the tofu
In a large pan (nonstick, if possible), heat a thin layer of oil on medium-high. Add the tofu to the pan and cook, stirring often, 9 to 11 minutes, until browned on all sides and heated through. Transfer to a paper towel-lined plate and season with S&P to taste. Wipe out the pan.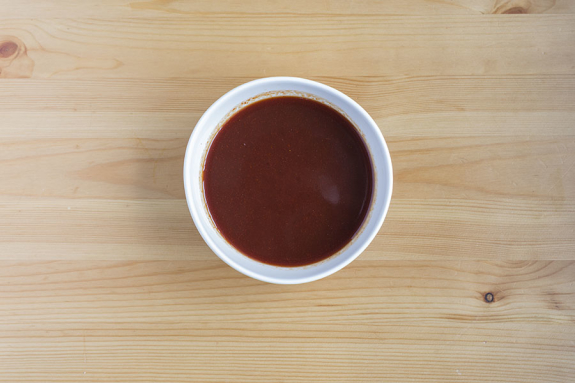 Make the sauce & cook the noodles
While the tofu cooks, in a small bowl, combine the lime juice, soy sauce, brown sugar, rice vinegar and tomato paste. Add the rice noodles to the pot of boiling water and cook, 4 to 5 minutes, until al dente (still slightly firm to the bite). Drain the noodles and toss with oil.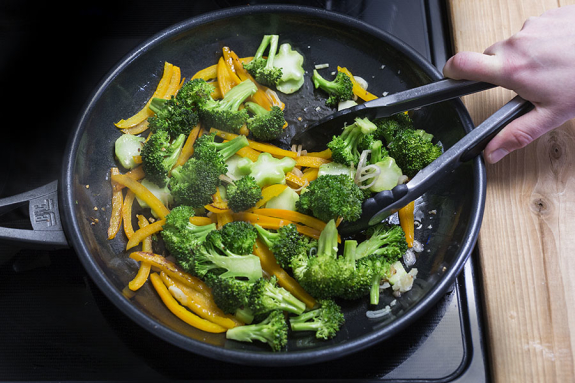 Start the pad thai
To the reserved pan, heat a drizzle of oil on medium-high. Add the garlic and shallots. Cook stirring frequently, 30 seconds to 1 minute, until fragrant. Add the broccoli and bell pepper. Cook, 4 to 5 minutes, until the vegetables begin to soften.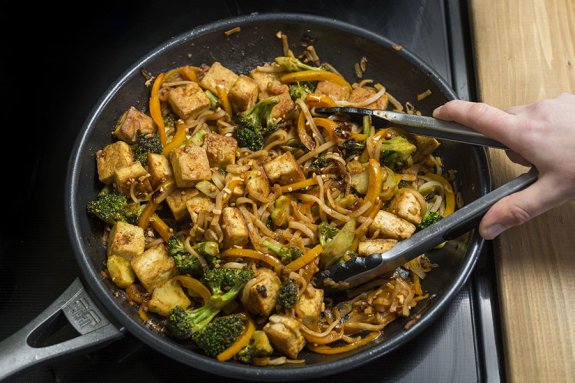 Finish the pad thai & serve
Add the drained noodles and ⅓ of the sauce to the pan. Toss to coat the noodles thoroughly. Add the tofu and cook, 30 seconds to 1 minute, until the tofu is heated through. Remove from the heat and add the remaining sauce; season with S&P to taste. Divide the finished pad thai between your plates. Garnish with the cilantro, chopped peanuts and lime wedges. Bon appétit!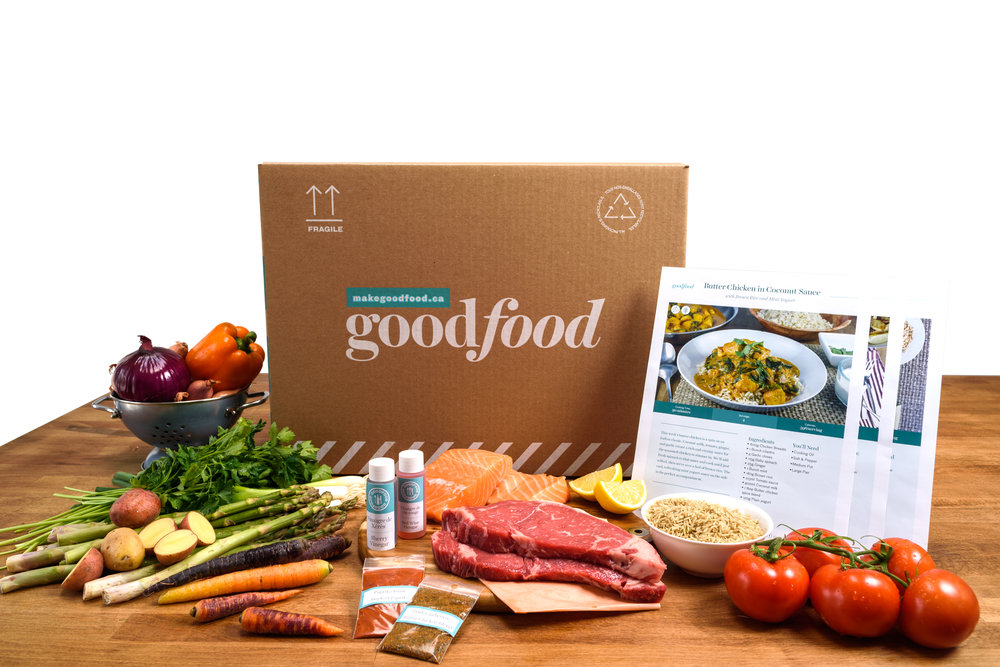 Let's get cooking
Discover a new way to cook with Goodfood: original recipes and the freshest ingredients delivered to your door every week.
Get started for just $4.99