Spring Vegetable Gyoza with Sesame-Ponzu Dipping Sauce
& Roasted Asparagus
Spring Vegetable Gyoza with Sesame-Ponzu Dipping Sauce
& Roasted Asparagus

Anne-Marie's favourite
"Japanese fried dumplings, or gyoza, are one of those insanely crave-worthy foods usually reserved for a night when you order in. Making your own dumplings may seem daunting, but we've engineered this recipe to be super simple and even more satisfying than the takeout variety. Filled with scallions, tofu, cabbage and edamame flavoured with lime ponzu sauce and sesame oil, these little packets pack a savoury punch. The gold medal here, though, goes to the furikake topping—the traditional Japanese mixture of sesame and dried seaweed is a flavour-packed umami bomb that will take your gyoza to new heights. Crispy roasted asparagus also benefits from a good dusting of the stuff. Dunk it all in a sesame-ponzu sauce to satisfy your salty tooth."
-Anne-Marie

100g Shredded Napa cabbage

2 Scallions

½ Bunch of asparagus

85g Edamame

90ml Ponzu lime sauce

30ml Sesame oil

225g Tofu

28 Dumpling wrappers

10g Mild furikake spice blend (crushed nori, toasted white sesame seeds, black sesame seeds, salt, sugar)

6.5g Korean spice blend (sea salt, brown sugar, white sesame seeds, garlic, sunflower oil, black pepper, ginger)
Contains: Gluten, Sesame Seeds, Soy, Wheat
Large pan
Sheet pan
Oil
Salt & pepper
Parchment paper
Grater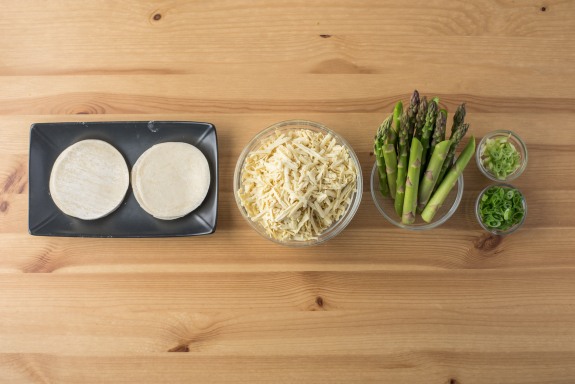 Mise en place
Preheat the oven to 450°F. Place the dumpling wrappers on a plate and cover with a damp paper towel. Snap off and discard the woody ends of the asparagus; halve the asparagus crosswise on an angle. Grate the tofu. Cut off and discard the root end of the scallions; thinly slice, separating the white bottoms and green tops.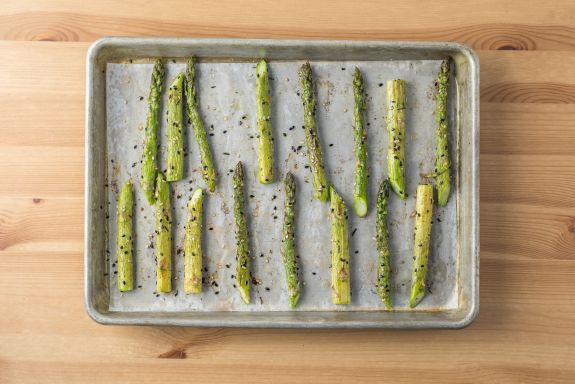 Roast the asparagus
On a lined sheet pan, toss the asparagus with a drizzle of oil; season with S&P. Roast in the oven, turning halfway through, 10 to 12 minutes, until browned and tender. Remove from the oven and sprinkle with ½ the furikake. Set aside in a warm spot.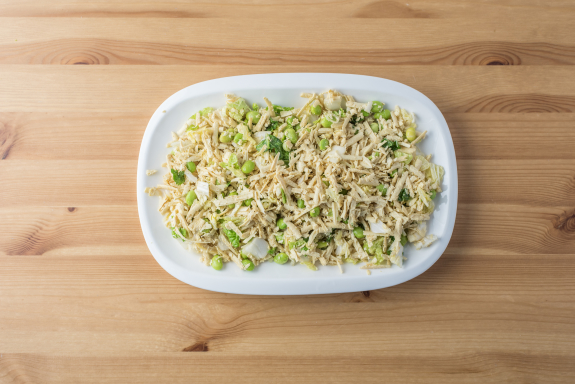 Cook the filling
While the asparagus roasts, in a large pan, heat a drizzle of oil on medium-high. Add ½ the white bottoms of the scallions and cook, stirring frequently, 30 seconds to 1 minute, until fragrant. Add the tofu, cabbage, edamame and ½ the ponzu; season with the Korean spice blend. Cook, stirring frequently, 3 to 5 minutes, until softened. Transfer the mixture to a plate and add ½ the sesame oil. Wipe out and reserve the pan.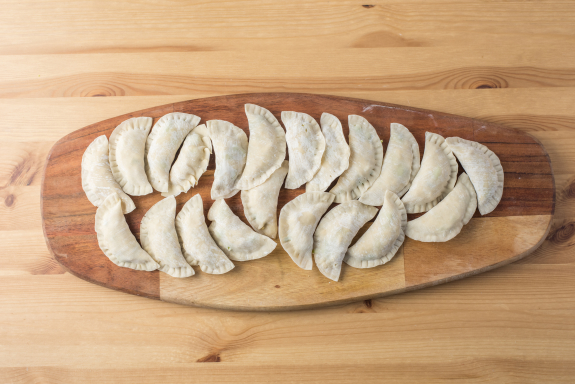 Make the gyoza
Fill a small bowl with lukewarm water. Place the dumpling wrappers on a clean, dry work surface. Spoon about 1 tbsp of the filling into the center of each wrapper. Working one at a time, use your fingers to lightly moisten the edges of the wrappers with water; carefully fold the wrappers in half over the filling. Using your fingers, press down on the edges to crimp and seal the dumplings. Transfer to a plate and cover with a damp paper towel.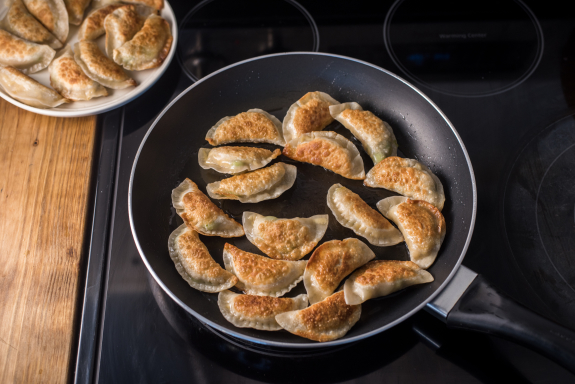 Cook the gyoza
In the reserved pan, heat a generous drizzle of oil on medium-high. Add the dumplings in a single, even layer (cooking in batches if necessary) and cook, 2 to 3 minutes per side, until golden brown.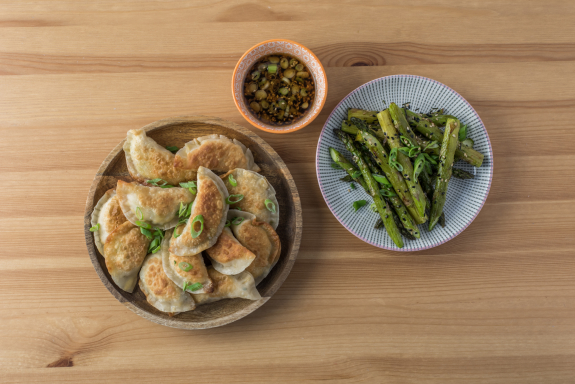 Make the sauce & serve
In a small bowl, combine the remaining ponzu, sesame oil and white bottoms of the scallions; season with the remaining furikake. Divide the finished gyoza between your plates and top with the green tops of the scallions. Serve the roasted asparagus and soy dipping sauce on the side. Bon appétit!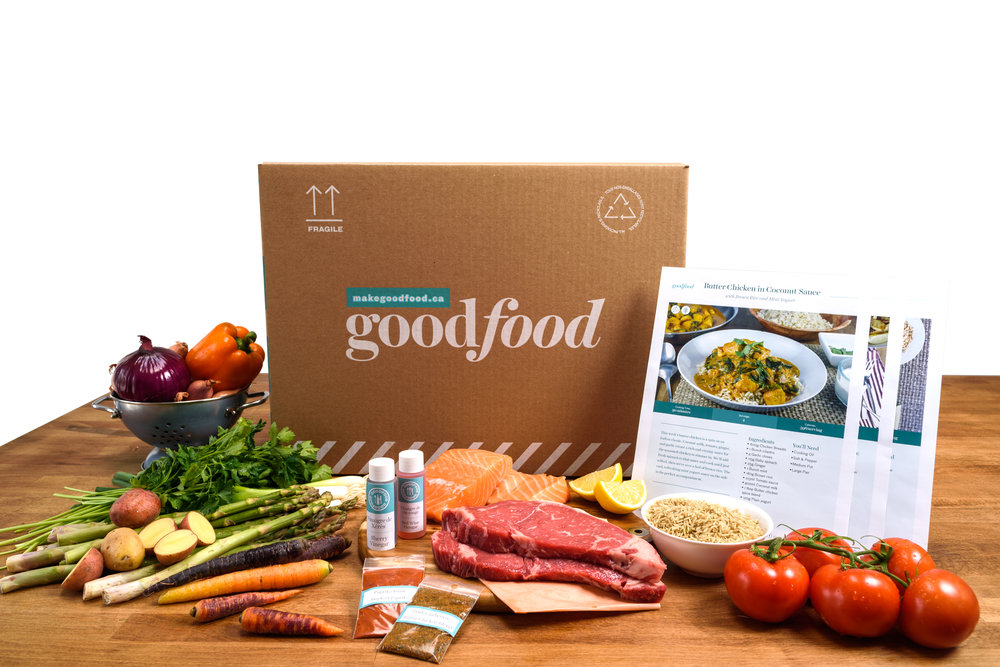 Let's get cooking
Discover a new way to cook with Goodfood: original recipes and the freshest ingredients delivered to your door every week.
Get started for just $4.99