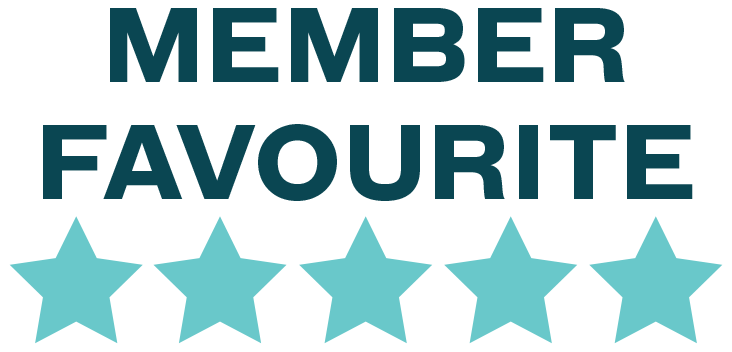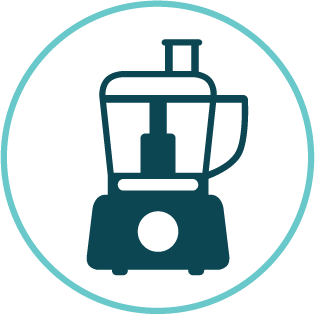 Spiced Beef & Peppers with Homemade Hummus
Cucumber-Tomato Salsa
Spiced Beef & Peppers with Homemade Hummus
Cucumber-Tomato Salsa
Making your own dip or spread from scratch may seem daunting, but fear not: for tonight's recipe we'll show you how to make creamy homemade hummus that will impress everyone around the dinner table. Believe us, it all comes together in a cinch! All you need to do is combine chickpeas, Greek yogurt, tahini, lemon juice and olive oil in the food processor and blend until smooth. With that, you've just created the perfect accompaniment to our spiced beef and sautéed bell pepper platter. Serve with a fresh cucumber and tomato salsa and warm pita bread to complete this mouthwatering meal.
510g Ground beef

1 Bunch of cilantro

2 Garlic cloves

1 Lemon

2 Tomatoes

1 Bell pepper

2 Cucumbers

540ml Chickpeas (canned)

30ml Tahini

100g Greek yogurt

4 Pita

15g Smoky ras el hanout spice blend (paprika, cumin, ginger, coriander seeds, turmeric, cinnamon, fennel seeds, nutmeg, cardamom, allspice, black pepper, caraway, galangal, cloves, mace, rose petals, lavender, laurel bay leaf, saffron, salt)
Contains: Gluten, Milk, Sesame Seeds, Wheat
Large pan
Strainer
Sheet pan
Olive oil
Oil
Salt & pepper
Parchment paper
Food processor (or blender)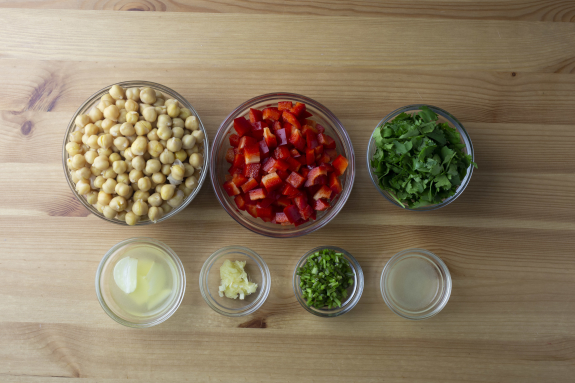 Mise en place
Preheat the oven to 400°F. Drain and rinse the chickpeas. Juice the lemon. Core and small dice the pepper. Thinly slice one clove of garlic and mince the other. In a small bowl, combine the sliced garlic and ⅔ of the lemon juice. Roughly chop the cilantro leaves and stems, keeping them separate.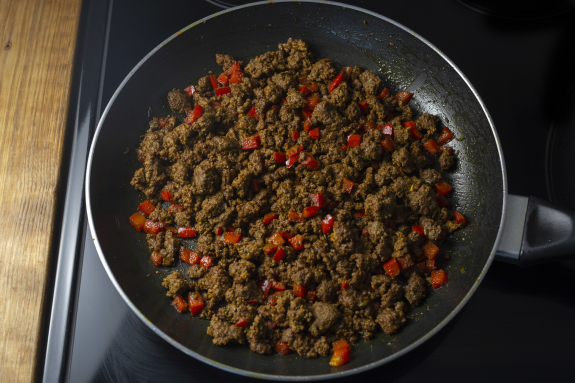 Cook the spiced beef & peppers
In a large pan, heat a drizzle of oil on medium-high. Add the ground beef*; season with S&P. Cook, breaking the meat up with a spoon, 4 to 6 minutes, until just cooked through. Add the peppers, cilantro stems and minced garlic; season with the spice blend. Cook, stirring occasionally, 3 to 4 minutes, until browned.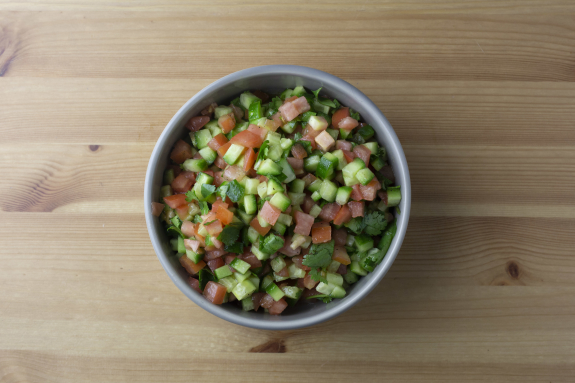 Make the salsa
While the beef and peppers cook, small dice the tomatoes and cucumbers. In a medium bowl, combine the tomatoes, cucumbers, ½ the cilantro leaves, remaining lemon juice (without garlic) and 2 tbsp of olive oil; season with S&P to taste.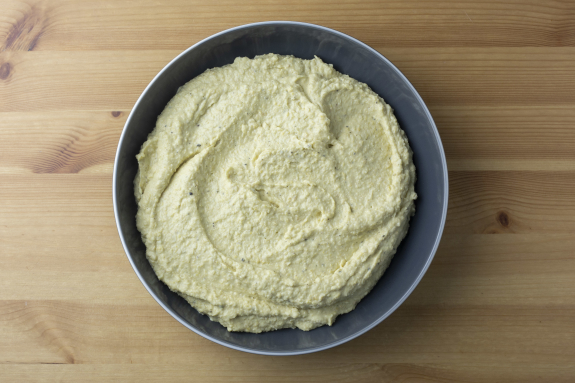 Make the hummus
While the beef and peppers continue to cook, using a fork, remove the sliced garlic from the lemon juice; discard the sliced garlic. In a food processor (or blender), add the chickpeas, Greek yogurt, tahini, garlic-infused lemon juice and 4 tbsp of olive oil; season with S&P to taste. Blend until smooth.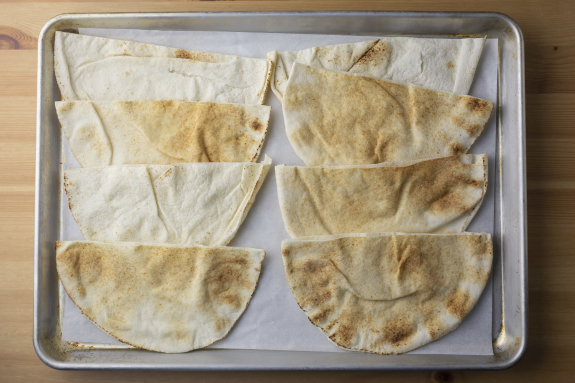 Warm the pita bread
Halve the pita bread. On a lined sheet pan, lay out the pita halves. Using your hands, sprinkle the pita bread with water to moisten them. Cook in the oven, 2 to 3 minutes, until just warmed through.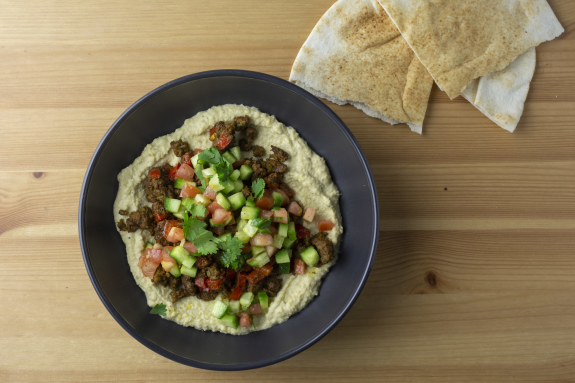 Plate your dish
Divide the hummus between your bowls. Top with the spiced beef and a spoonful of the tomato-cucumber salsa. Garnish with the remaining cilantro leaves. Serve the pita and remaining salsa on the side. Bon appétit!
*Health Canada recommends cooking ground beef to a minimum internal temperature of 71°C.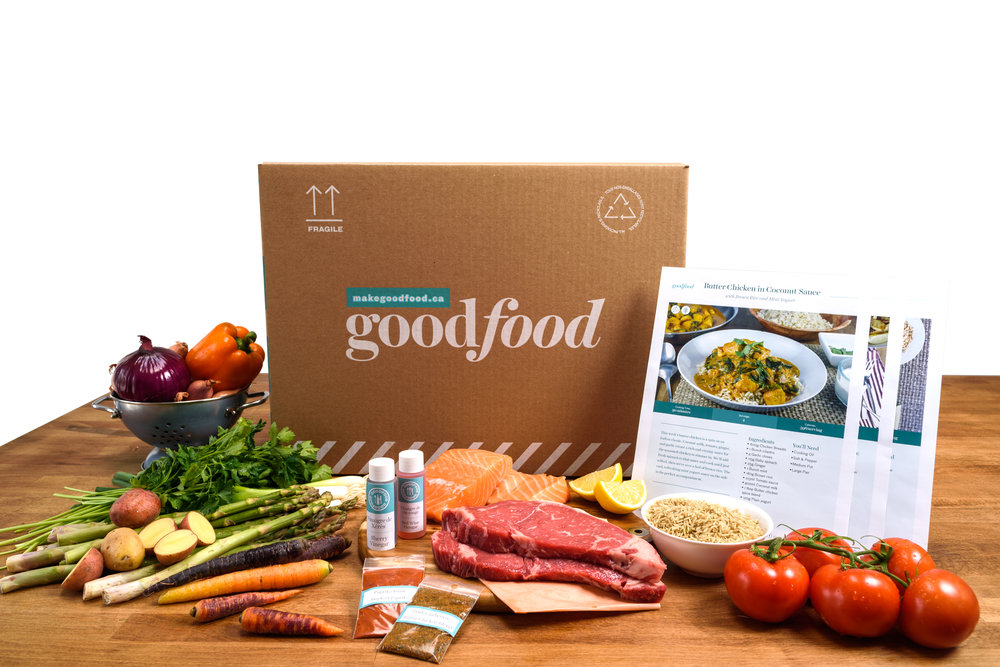 Let's get cooking
Discover a new way to cook with Goodfood: original recipes and the freshest ingredients delivered to your door every week.
Get started for just $4.99