Shrimp Bánh Mì
with Quick Pickled Veggies and Beet Salad
Shrimp Bánh Mì
with Quick Pickled Veggies and Beet Salad

Anne-Marie's favourite
The iconic Bánh Mì sandwich traditionally features a French-style baguette generously filled with marinated meat and pickled vegetables. The possible variations are endless, but we've landed on a combination that is simply perfection on a toasted roll! We're marinating shrimp in a unique dry rub that features lemongrass and Chinese five-spice. We're topping that with an addictively sweet and tart quick pickle of crunchy carrots and red onion. We're turning up the heat with a spicy Sriracha mayo and tossing together an earthy beet and coriander salad to serve up on the side.

As banh mi recipes keep popping up around town, I am very curious to try a home-made version of a sandwich that I usually eat on-the-go! I also have a feeing that the beet salad recipe is one I will be recreating often this winter!
Anne-Marie

285g Shrimp

200g Carrots

1 Bunch cilantro

1 Red onion

340g Beets

5 Packets mayonnaise

2 Packets Sriracha

12g Sugar

90ml Rice vinegar

4g Bánh Mì spice blend (Chinese five-spice, lemongrass, garlic)

2 Mini baguettes
Olive oil
Salt & pepper
Medium pot
Medium pan
Sheet pan
Strainer
Large-hole grater
Cook the beets
Bring a medium pot of salted water to a boil. Peel and medium dice the beets. Add to the pot of boiling water and cook, 20 to 22 minutes, or until tender when pierced with a knife. Drain thoroughly and transfer to a salad bowl to cool.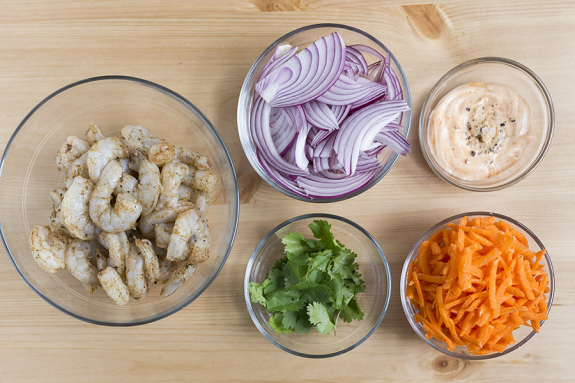 Mise en place
Preheat the oven to 400°F. Peel, halve and thinly slice the onion. Grate the carrot. Pick the cilantro leaves off the stems. In a bowl, combine the mayonnaise and as much of the Sriracha as you'd like; season with S&P to taste. Pat the shrimp dry with paper towel and peel the shells off the tails; place in a bowl and toss with S&P and the spice blend.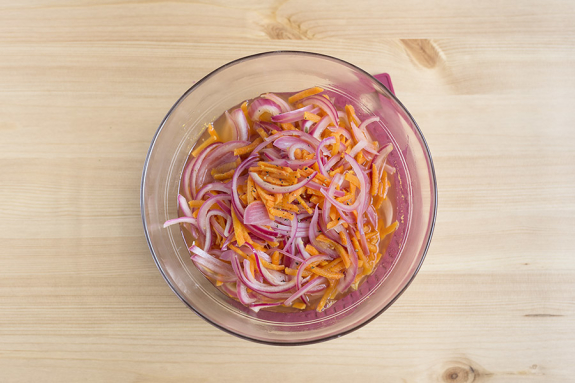 Pickle the vegetables
While the beets cook, in a medium pan (nonstick, if possible), combine the carrot, onion, vinegar, sugar and ⅔ cup of water (double for 4 portions); season with S&P and bring to a boil. Once boiling, cook, stirring frequently, 1 to 2 minutes, or until the sugar has dissolved and the liquid is slightly reduced in volume. Transfer to a heatproof bowl and set aside to pickle, stirring occasionally, for at least 10 minutes. Rinse and wipe out the pan.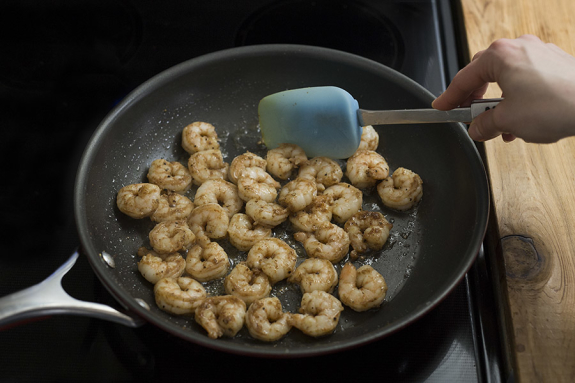 Cook the shrimp
In the reserved pan, heat a drizzle of oil on medium-high. Add the seasoned shrimp and cook, stirring occasionally, 2 to 3 minutes, or until lightly browned and cooked through. Remove from the heat.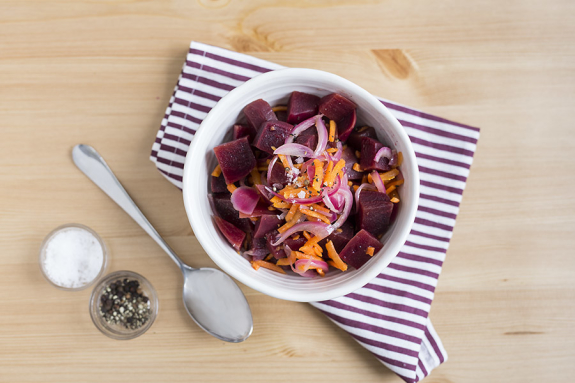 Make the salad
To the bowl of cooled beets, add a ¼ of the pickled vegetables and 2 tbsp of the pickling liquid (double for 4 portions). Drizzle with olive oil and toss to combine; season with S&P to taste.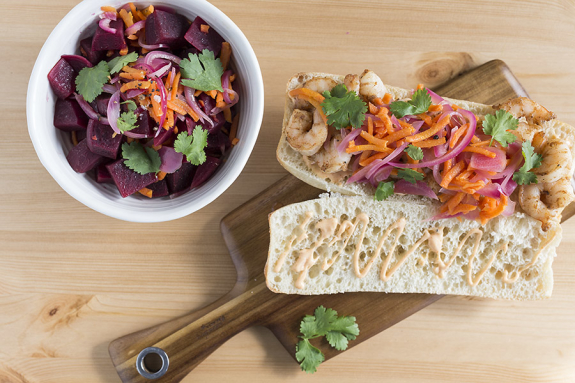 Toast the rolls & serve
Cut the baguettes in half horizontally, without going all the way through to the other side. Open the baguettes like a book and place on a sheet pan. Toast in the oven, 2 to 4 minutes, until warmed through. Spread a layer of Sriracha mayo on the bottom of each roll. Top with the shrimp, remaining mayo, remaining pickled vegetables (drain before adding) and ½ the cilantro. Top the beet salad with the remaining cilantro and serve it up on the side. Bon appétit!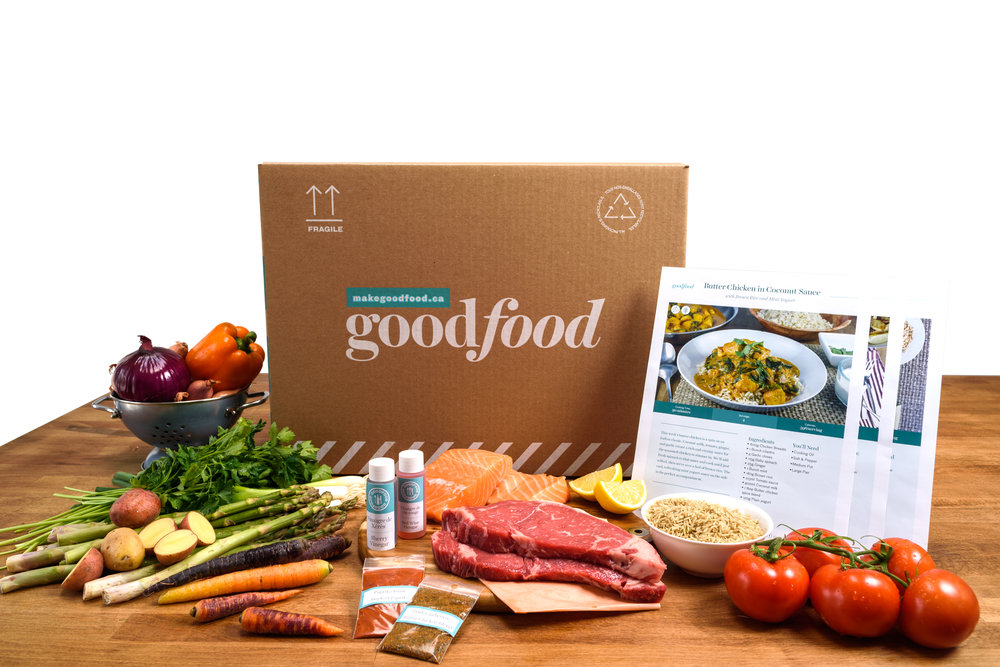 Let's get cooking
Discover a new way to cook with Goodfood: original recipes and the freshest ingredients delivered to your door every week.
Get started for just $4.99