Roasted Sweet Potato & Black Beans over Quinoa
with Avocado & Cotija Cheese
Roasted Sweet Potato & Black Beans over Quinoa
with Avocado & Cotija Cheese
Tex-Mex night is something to celebrate anytime at the family dinner table. And it's time for a spring fiesta! Lovers of burritos will drool over this vegetarian recipe, which includes the works, just in a bowl. Caramelized cubes of sweet potato, flavourful refried beans, a scoop of avocado purée and a sprinkle of Cotija cheese all get served up on a bed of fluffy quinoa alongside tangy cabbage. The whole thing is drizzled with a delightful chili-citrus sauce.
200g Shredded red cabbage

1 Bunch of cilantro

1 Lime (or lemon)

1 Shallot (or onion)

450g Diced sweet potatoes

540ml Black beans (canned)

174g White quinoa

45ml Mild chili sauce

114g Avocado purée

100g Greek yogurt

60g Cotija cheese

16.5g Cancun dreaming spice blend (salt, chili powder, garlic, sugar, paprika, coriander, black pepper, cumin, onion, oregano, lime oil)
Medium pot
Large pan (non-stick if possible)
Zester
Strainer
Sheet pan
Olive oil
Oil
Salt & pepper
Parchment paper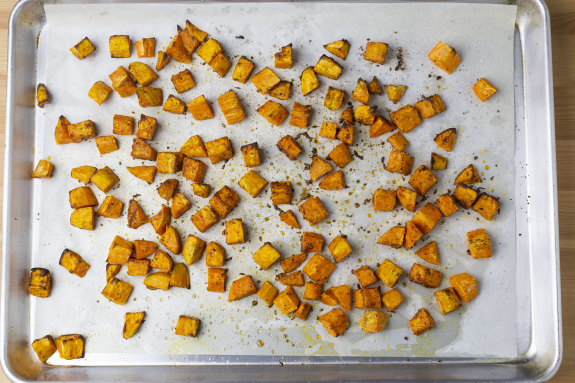 Roast the sweet potatoes
Preheat the oven to 450°F. On a lined sheet pan, toss the sweet potatoes with a drizzle of oil; season with ½ the spice blend and S&P. Arrange in a single, even layer and roast in the oven, stirring halfway through, 18 to 22 minutes, until golden brown and tender when pierced with a fork. Remove from the oven and set aside in a warm spot.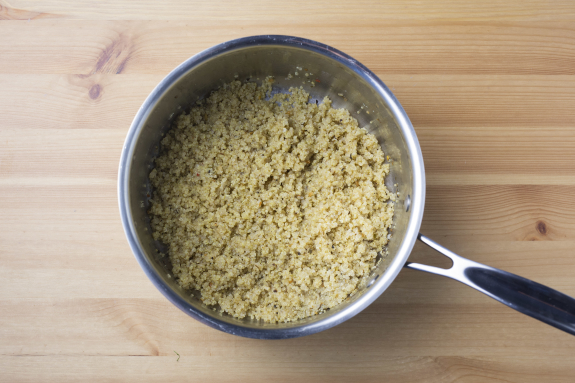 Cook the quinoa
While the sweet potatoes roast, rinse the quinoa. In a medium pot, combine the quinoa, 2 cups water and a pinch of salt; bring to a boil. Reduce the heat, cover and let simmer, 14 to 16 minutes, until the quinoa is tender. Fluff with a fork and set aside in a warm spot.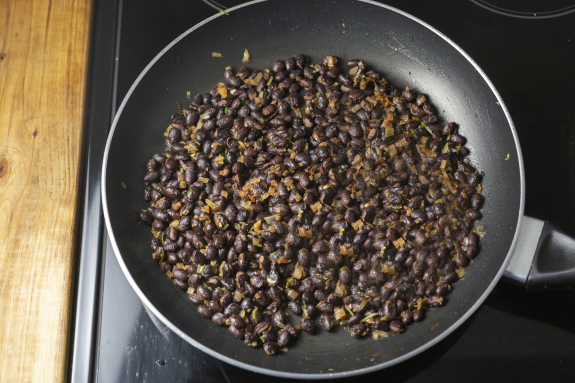 Cook the beans
While the quinoa cooks, drain and rinse the black beans. Peel, halve and mince the shallot. Pick the cilantro leaves off the stems; roughly chop the leaves and stems, keeping them separate. In a large pan (non-stick if possible), heat a drizzle of oil on medium-high. Add the shallots and cilantro stems; cook, stirring frequently, 1 to 2 minutes, until fragrant. Add the black beans and ½ cup water; season with ⅔ of the remaining spice blend and S&P. Cook, stirring occasionally, 2 to 3 minutes, until the liquid has almost completely evaporated.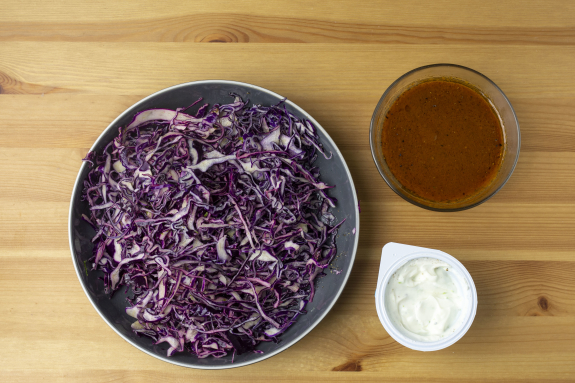 Prepare the cabbage, drizzle & yogurt
While the black beans cook, zest and juice the lime. In a large bowl, combine the cabbage, ½ the lime juice and up to ½ the lime zest (to taste); drizzle with olive oil and season with S&P to taste. In a medium bowl, make the chili drizzle by combining the mild chili sauce, remaining spice blend, remaining lime juice and 4 tbsp olive oil; season with S&P to taste. To the container of yogurt, add as much of the remaining lime zest as you'd like; stir to combine and season with S&P to taste.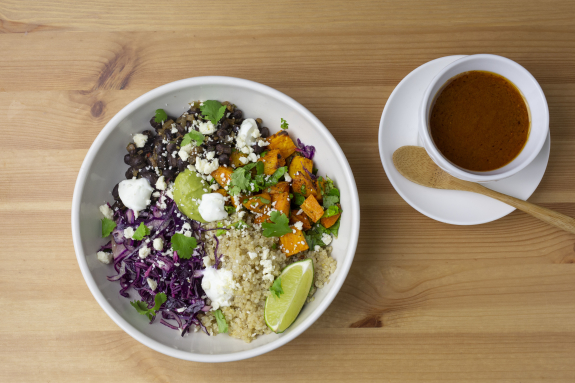 Finish & serve
To the pan of roasted sweet potatoes, add the cilantro leaves; toss to combine. Divide the cooked quinoa, cooked black beans, roasted sweet potatoes and dressed cabbage between your bowls. Top with the Cotija cheese. Garnish with the zesty yogurt and avocado purée; top with as much of the chili drizzle as you'd like. Bon appétit!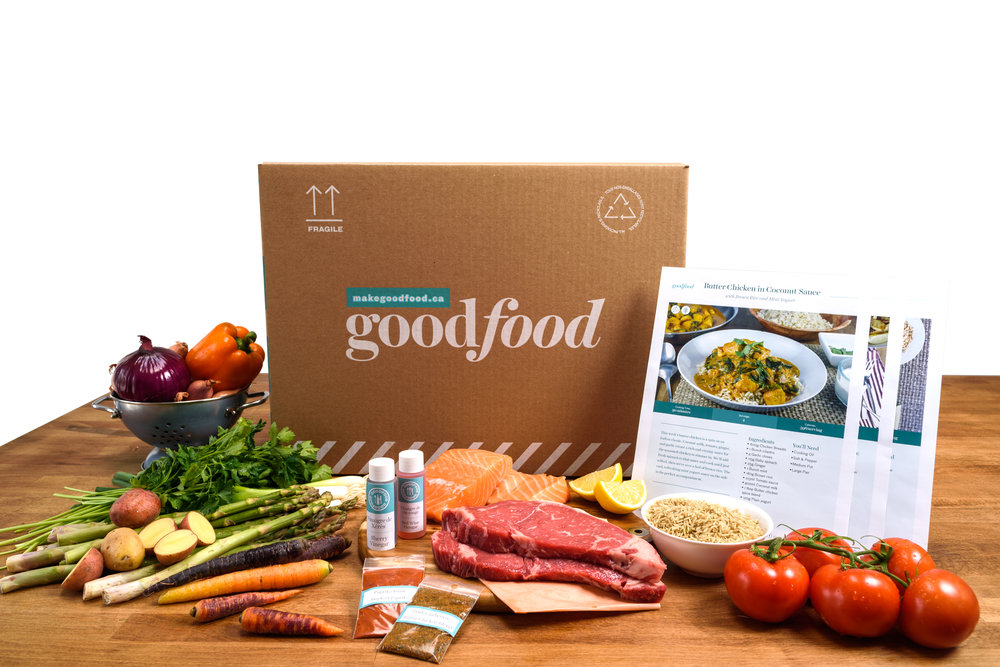 Let's get cooking
Discover a new way to cook with Goodfood: original recipes and the freshest ingredients delivered to your door every week.
Get started for just $4.99