Crispy Pork Katsu Bowls with Spiralized Carrots
& Marinated Cucumbers over Sushi Rice
Crispy Pork Katsu Bowls with Spiralized Carrots
& Marinated Cucumbers over Sushi Rice
We take a leaf out of Japanese cookbooks for tonight's meal, which features crispy pork katsu on the menu. This means we coat our pork chops with flour, egg and panko, then pan cook until deliciously golden brown and crispy. The chops are served atop a bowl of sticky Calrose rice flavoured with rice vinegar and a sprinkle of brown sugar. Alongside we serve thin slices of radish and cucumber. Everything is generously drizzled with wafu sauce to finish this bright meal-in-a-bowl!
20g Mild furikake spice blend (crushed nori, toasted white sesame seeds, black sesame seeds, salt, sugar)
Contains: Egg, Gluten, Sesame Seeds, Soy, Wheat
Medium pot
Large pan (nonstick if possible)
Oil
Salt & pepper
2 Eggs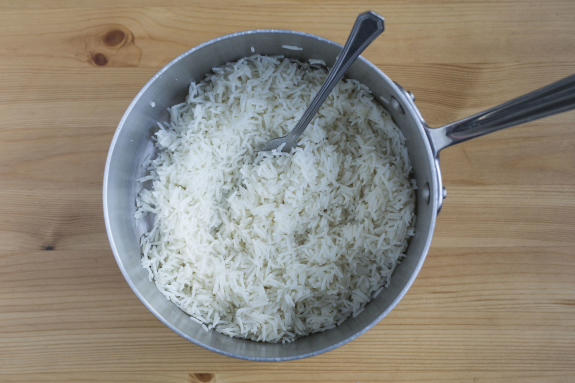 Cook the rice
In a medium pot, combine the rice, 3 ½ cups of water and a big pinch of salt; bring to a boil. Reduce the heat, cover and let simmer, 18 to 20 minutes, until the rice is tender and the water is absorbed. Remove from the heat and let sit, covered, for 5 minutes. Fluff the cooked rice with a fork and set aside in a warm spot.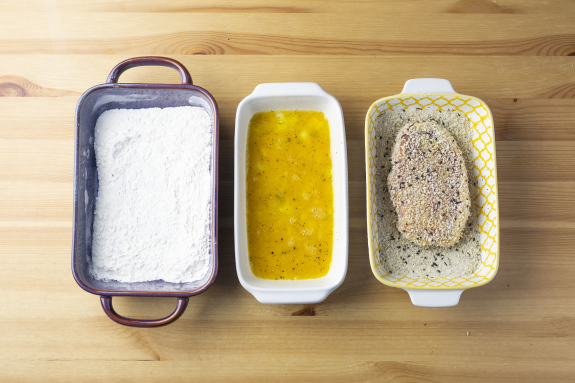 Prepare the pork
While the rice cooks, place the flour and panko in two separate bowls; season the panko with ½ the spice blend and S&P. Crack 2 eggs into a third bowl; beat until smooth and season with S&P. Pat the pork dry with paper towel; season with S&P. Working one piece at a time, thoroughly coat the pork in flour (tap off excess), then in egg (let excess drip off) and panko (press to adhere). Transfer to a plate.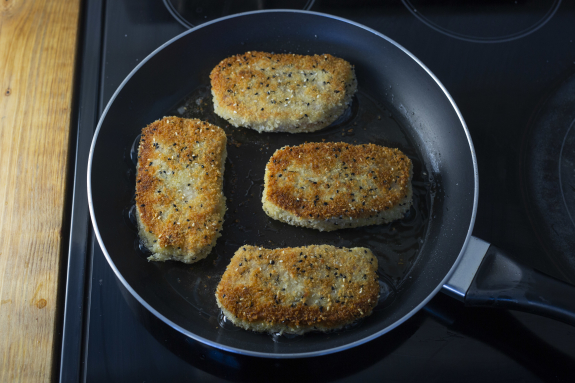 Cook the pork
In a large pan (nonstick, if possible), heat a generous drizzle of oil on medium. Add the breaded pork* to the pan and cook, 5 to 7 minutes per side, until golden brown and cooked through; season with S&P. Transfer to a paper towel-lined plate. Once cool enough to handle, slice against the grain.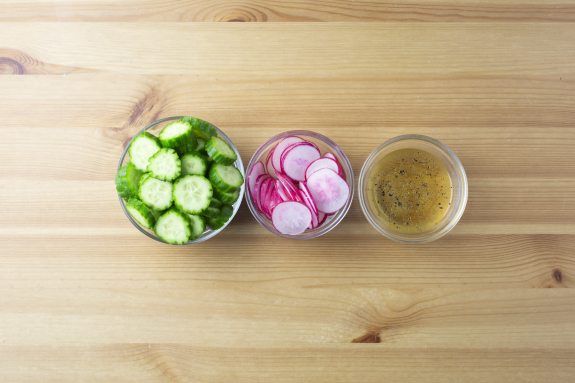 Mise en place
While the pork cooks, using a fork, lightly score the cucumbers lengthwise all the way around. Cut the cucumbers into ¼-inch-thick rounds. Thinly slice the radishes. In a small bowl, combine the vinegar and sugar; mix until the sugar has dissolved and season with S&P to taste.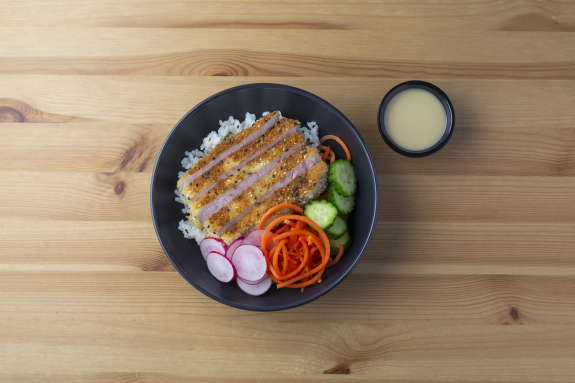 Finish the rice & serve
To the pot of rice, add the vinegar mixture; season with the remaining spice blend and stir to combine. Divide the finished rice between your bowls. Top with the carrots, radishes, cucumbers and cooked pork. Drizzle with as much of the wafu sauce as you'd like. Bon appétit!
*Health Canada recommends cooking pork to a minimum internal temperature of 71°C.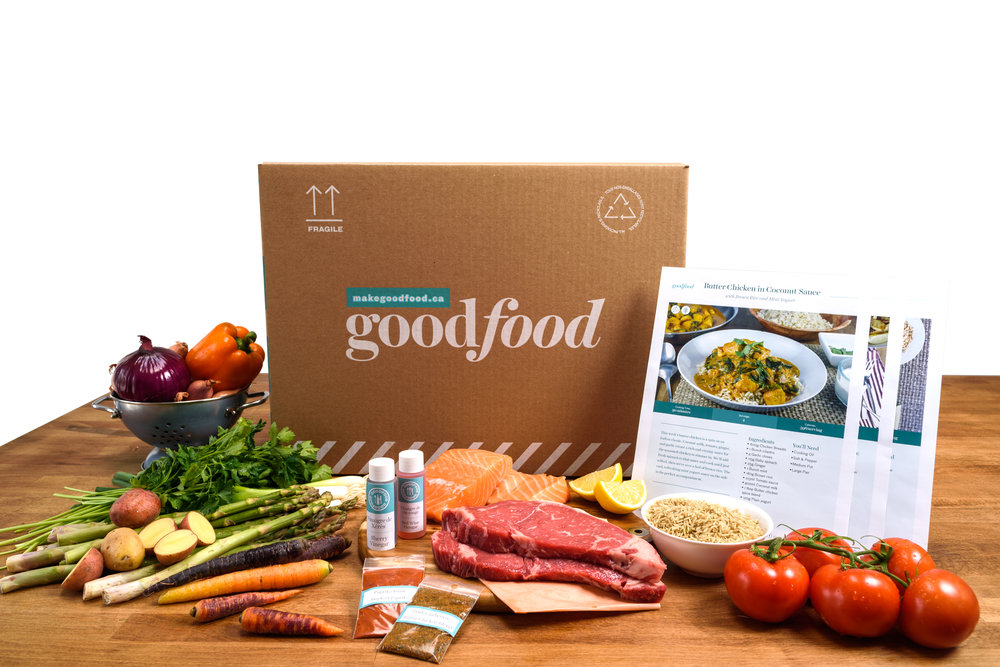 Let's get cooking
Discover a new way to cook with Goodfood: original recipes and the freshest ingredients delivered to your door every week.
Get started for just $4.99