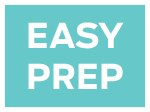 'Butter' Tofu with Spinach
Sugar Snap Peas & Cilantro Rice
'Butter' Tofu with Spinach
Sugar Snap Peas & Cilantro Rice
We revisit an Indian classic tonight, vegetarian-style. Golden cubes of tofu are tossed in tomato, ginger and coconut milk and spruced up with a fragrant spice blend of cumin, turmeric and fenugreek. Leafy spinach and crisp sugar snap peas add a nutritious touch to this easy-to-prepare delight. Served over jasmine rice and topped with a handful of cilantro, this dish has a remarkable rich taste and vibrant appearance that's sure to impress your guests.
120g Baby spinach

1 Bunch of cilantro

50g Diced onions

15ml Minced garlic

15ml Ginger paste

100g Trimmed sugar snap peas (or snow peas)

225g Pre-cooked jasmine rice

165ml Coconut milk

1 Block of tofu (non-GMO)

213ml Tomato sauce (canned)

8g 'Butter' tofu spice blend (coriander, black pepper, cumin, fennel, fenugreek, garlic, ginger, paprika, turmeric, sea salt)
Large pan
Oil
Salt & pepper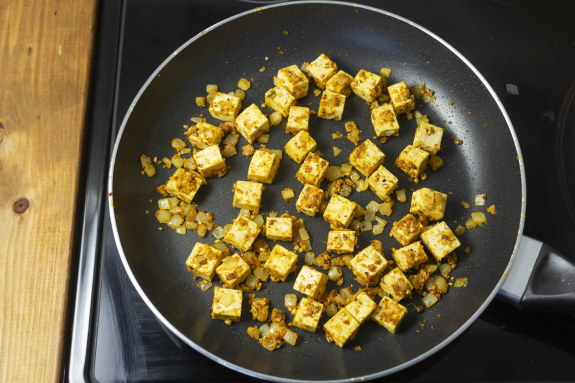 Brown the tofu
In a large pan, heat a drizzle of oil on medium. Pat the tofu dry with paper towel; cut into medium cubes. Add the onions, ginger and garlic. Cook, stirring frequently, 1 to 2 minutes, until softened and fragrant. Add the tofu and cook, stirring frequently, 2 to 3 minutes, until beginning to brown; season with the spice blend and S&P.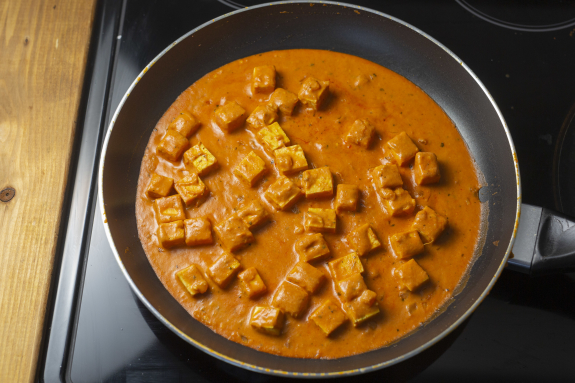 Start the 'butter' tofu
To the pan of tofu, add the tomato sauce and coconut milk; season with S&P and stir until thoroughly combined. Bring to a boil. Reduce the heat and let simmer, 8 to 10 minutes, or until the tofu is heated through and the sauce has thickened.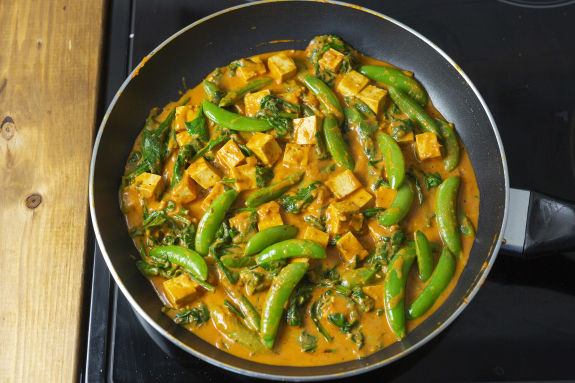 Finish the 'butter' tofu
To the pan of sauce, add the sugar snap peas and ¼ cup water (double for 4 portions). Cook, stirring frequently, 1 to 2 minutes, until the sugar snap peas are beginning to soften. Add the spinach; season with S&P to taste. Cook, stirring frequently, 1 to 2 minutes, until the spinach has wilted.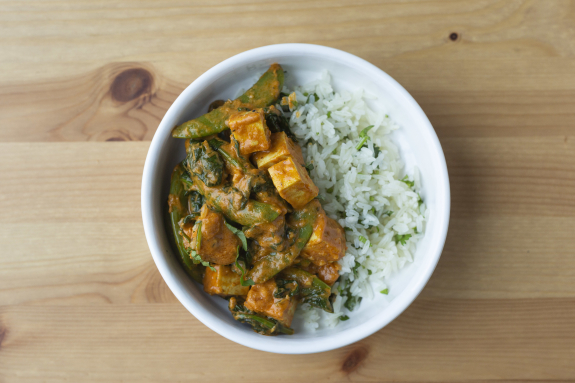 Warm the rice & serve
While the sauce cooks, using a knife, poke a small hole in the bag of rice; microwave, 1 to 1 ½ minutes. Transfer the rice to a medium bowl and add ½ the cilantro (roughly chop all the leaves and stems before adding); season with S&P to taste. Divide the finished rice between your bowls. Top with the 'butter' tofu and sauce. Garnish with the remaining cilantro. Bon appétit!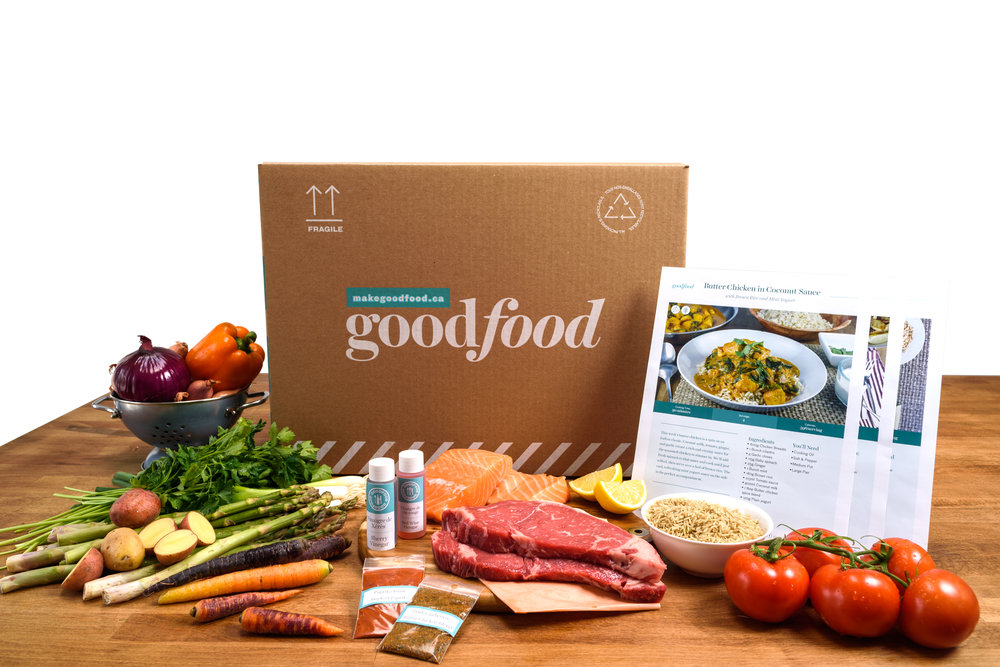 Let's get cooking
Discover a new way to cook with Goodfood: original recipes and the freshest ingredients delivered to your door every week.
Get started for just $4.99